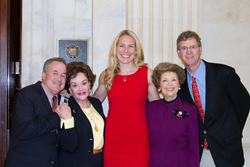 Los Angeles, CA (PRWEB) April 08, 2014
The Foundation for Global Sports Development (GSD) will attend the annual Childhelp National Day of Hope Luncheon in Washington, D.C. April is recognized nationally as Child Abuse Prevention Month, and this event provides the opportunity to recognize the outstanding accomplishments of individuals and organizations in the on-going fight to end child abuse. The luncheon is also instrumental in bringing together child abuse prevention activists and members of congress to discuss new advancements in child abuse prevention efforts.
Taking place Wednesday, April 9th, this year's event will host Senators Dianne Feinstein of California, and Lamar Alexander of Tennessee as Co-Chairs, and Rebecca Cooper of WJLA-ABC will serve as the Emcee. 2014 Award recipients include Origami Owl, who will be presented with Childhelp's Corporate award, and Childhelp's"Voice of the Children" award will be presented to Cynthia G. Wright, a prosecutor for the Special Victim's Unit of theU.S. attorney's office.
GSD has long been a supporter of Childhelp's programs, underwriting their groundbreaking "Blow the Whistle on Child Abuse" campaign aimed at promoting the safe physical, emotional, educational, and spiritual development of youth athletes. Board members, Dr. Steven Ungerleider and David Ulich, will attend the luncheon as special guests. "While the month of April helps spotlight the issue of child abuse, our goal in working with Childhelp is to create safe environments for children every day of the year," says Mr. Ulich.
Esther Lofgren, GSD Champion Ambassador and 2012 Olympic Rowing medalist, will also attend the event. She believes that "young athletes who are sexually, physically, and mentally abused need the athletic community to be educated about the signs of abuse and to be willing to support and prevent this from happening. Childhelp's work and the awareness created by the National Day of Hope enable discussion, education, prevention, and the hope that one day, no athlete or child will have to decide between their Olympic dream or safety."
GSD will continue to support Childhelp as they tirelessly work to prevent and treat child abuse. Daphne Young, Childhelp's VP of Communications & Prevention Education, recognizes GSD's support: "The Foundation for Global Sports Development continues to be a key partner in Childhelp's national prevention education mission. Their academic, financial and inspirational support for the research, development and implementation of Childhelp Blow the Whistle on Child Abuse has helped create one of the premier anti-abuse awareness campaigns for youth athletics. Our next goal is reaching at-risk communities to safeguard kids against abuse so they can enjoy the sports they love and reach their full potentials."
About Global Sports Development
Working closely with international sports federations, generous donors and committed athletes, The Foundation for Global Sports Development promotes sportsmanship, education, fair play and ethics among the world's youth. The Foundation gives special emphasis to groups and communities that are most in need or most underserved by current programs, including women, minorities and youth in areas where the risk of delinquency is particularly high. Visit http://www.globalsportsdevelopment.org to learn more.
About Childhelp
Founded in 1959 by Sara O'Meara and Yvonne Fedderson, Childhelp® is a leading national non-profit organization dedicated to helping victims of child abuse and neglect. Childhelp's approach focuses on prevention, intervention and treatment. Childhelp® exists to meet the physical, emotional, educational, and spiritual needs of abused, neglected and at-risk children. We focus our efforts on advocacy, prevention, treatment, and community outreach. Childhelp is headquartered in Phoenix, Arizona. For more information, please visit http://www.childhelp.org.