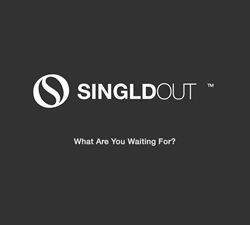 San Diego, CA (PRWEB) April 15, 2014
SingldOut, Inc., Twitter handle @singldout, today announced that SingldOut.com™ will officially open its doors to new US and UK members on April 30th. The platform will collect and honor all invitation requests for a one-year free membership using LinkedIn credentials.
SingldOut.com™ sign-up plan requires using LinkedIn credentials to validate users are indeed 'professionals'. The site features all the privacy controls required to secure one's privacy, and the ability to curate one's own dating network.
SingldOut.com™ will also offer a cutting-edge solution to help connect members with the right match. This scientific solution will help guide members into predicting online whether they may have "chemistry" offline, but also the likelihood of a satisfying long-term relationship with their match. Working with Instant Chemistry Inc., SingldOut.com now offers this scientific solution to all single professionals looking for love.
SingldOut™, the mobile app, will follow soon with geo-location functionalities that will let you know when other members are nearby within a radius of one mile or under.
Media Contact:
Elle France
CMO
Elle(at)singldout(dot)com