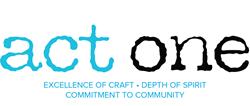 Hollywood, CA (PRWEB) April 08, 2014
"I am most thankful for Act One because it is leading a conversation of what it means to bring goodness and innovation to our industry. Act One holds us to greater standards as artists and supports us in achieving those through community events and education," says Dawn Asher, Act One Producing Alum and former Director of Alumni Events.
As the one tasked with engaging Act One's seven hundred plus alums with significant, impactful experiences, Dawn crafted a space to tell a "story which our community enthusiastically received, engaged with, and responded to." Brought on in February of 2013, events like the Upfront Market, Alumni Weekend, and intimate dinners for long-time faculty members were designed to be intentional and community focused.
As 2014 unfolds, Dawn is stepping into new experiences of her own. She enters pre-production as a producer on Matt Webb's ONE YEAR ROAD TRIP, a docu-series of kids who are creating sustainable movements of change in the world across all 50 states. She is currently shopping a reality TV series she created titled MOM & CO.; she is developing a feature prison documentary, A SPECIAL MEAL, which juxtaposes a last supper on death row with a first meal in freedom. Most importantly, she and her husband are expecting their first baby, due this September.
"We are sad to see Dawn leave, but we are excited about what the future holds for her. We are thrilled to see her projects come to life and we celebrate with her as she heads into the new adventure called motherhood. In many ways, we feel like a proud parent as well, watching those that have grown in our midst step out and flourish in their calling," says Christina Lee Storm, Executive Director of Act One.
When he was brought on to program coordinate the 2013 Act One Programs, Matt Webb brought a level of excellence that the program benefited greatly from. During that time, he oversaw the producing and writing programs, making sure that students and teachers were organized, that internships were filled, and that mentors were working with writers.
Speaking on the past year's programs, Matt says, "It was a real pleasure working with so many different students with so many different backgrounds and interests in the film industry. I hope that I was able to provide a safe and encouraging sounding board for folks trying to navigate this town. I'm most thankful for the incredible faculty who graciously share of their time and experience to teach, inspire and shoot straight about the challenges and joys of working in the film industry."
Matt steps out of Act One and into some great projects. "I'm currently producing two projects that I'm very excited about. We are finishing up production on Praying the Hours, a dramatic feature directed by Lauralee Farrer, and my family is in pre-production gearing up for our road trip docu-series, ONE YEAR ROAD TRIP. Our brood of 5 is taking to the road for 14 months to meet kid change-makers in all 50 states, then share those tales across a variety of platforms. We want to celebrate amazing kids and help other children create sustainable movements of change in the world."
It's not easy to replace skilled and talented people like Dawn and Matt, and with the 2014 Summer Classes fast approaching, Act One needed to find the right individuals to meet the demands. Act One was fortunate to bring two equally talented Alums on board this summer: Lara Sumera and Galen Gilbert. Lara will act as Program Coordinator for the Summer Programs as well as Event Producer for this Fall's Upfront Market. And Galen will be Event Producer for the Summer Alumni Weekend.
"We are in such a unique and amazing position at Act One: we are surrounded by extremely gifted men and women," remarks Christina. "With such strong leadership and creativity, we can't wait to see what Lara and Galen will do with our Summer events that are ahead."
A skilled producer, Lara Sumera was brought on to oversee the logistics of the entire Summer Writing and Producing Programs as well as Act One's Marquee Fall Upfront Market. This event is a unique opportunity for Hollywood to meet the Act One Alumni. With last year being its inaugural year, we've already seen successful relationships formed and projects propelled into development.
Lara was first introduced to Act One while "on the road with Camfel Productions and my co-worker mentioned she was interested in the Act One writing program. I looked into it, and saw that there was a producing track and became more interested.  The deadline was very soon at that point, so turned in my app within a couple days and did all my interviews while on the road.  I was accepted into the program and moved to LA the next month."
"For me, creating community is the aim of everything I do. I have found an incredible community within Act One and...I hope to foster that emphasis," Lara says. "What I'd like to see from this community, from the stories we tell, is to offer a hope that someone outside of a faith worldview may not have considered before, and at least get them to question a few things."
Galen Gilbert, a Writing Program Alum, will pick up where Dawn left off with the Alumni Weekend. Celebrating Alumni successes, highlighting current trends in the entertainment world, and showcasing Alumni work, Galen will oversee a jammed packed weekend that acts as the closing ceremonies for the Summer Program and the annual gathering of Act One's 700 strong Alumni base.
Act One is a premiere training organization for writers and producers looking to work in Hollywood. They offer two acclaimed programs, running during the summer: Writing for Film & TV Program and Producing and Entertainment Executive Program.
Applications for the Summer 2014 sessions are being accepted. The deadline for the applications is April 15, 2014.