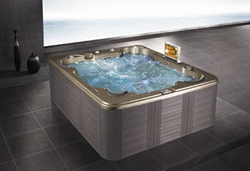 (PRWEB) April 08, 2014
Today, XC Spa, a leading Spa product manufacturer and wholesaler, releases its new outdoor Spa pools and announces its April Sale, offering great discounts on all its outdoor Spa products.
The outdoor spa pools from XC Spa have been extremely popular worldwide, especially in the USA and Japan. Users can enjoy an unsurpassed hydrotherapy experience and comfortably accommodated. With the massaging jets imbedded within the therapy collars, users can experience a sublime hydrotherapy massage.
XC Spa provides one-stop Spa product shopping experience for its global customers. The company has earned a great reputation for its quality Spa products and service. Good customer service and affordable high-quality products are the reasons to choose XC Spa.
"We have a commitment of providing customers with the latest designs at affordable prices, which has been proven by our success on the market. Customers who want to buy outdoor Spa can apply a special discount when placing an order. Our staff is available during business hours to assist customers," the spokesman for the company says.
XC Spa is devoted to designing and manufacturing innovative Spa products with the purpose of improving health, beauty and relaxation through personal care treatments with its Spa products. The company is happy to share its opinion, advice and knowledge through its official website.
About XC Spa
XC Spa is a ISO9001:2000 certified company offering a wide range of Spa products, especially hot tubs, outdoor spa and swimming spa tubs. The company's products go through a strict quality-control process, and they are resistant to weathering, warping and scoffing. Premium product quality and great customer service are the reason that their products are widely recognized by the customers worldwide.
For more information, please visit: http://www.xcspa.com/outdoor-spa/.