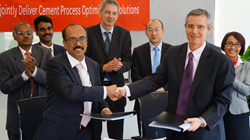 Beijing, China / Chennai, India (PRWEB UK) 8 April 2014
Schneider Electric, a global specialist in energy management has entered into a strategic partnership with Ramco Systems, an enterprise software product company. The partnership will see Ramco's Advanced Process Optimization software, OPTIMA, become an important part of Schneider Electric's solutions for the cement industry and strategically help explore business opportunities.
With cement manufacturers focusing their efforts on reducing energy and emissions, improving overall performance and managing consistent product quality grade, plant operators are looking for solutions that stabilize the production process and maintain the optimal operation point for minimal effect on the environment.
Schneider Electric's strategic partnership with Ramco will deliver this much required solution, with a specific focus on optimization of kiln and mill operations, to its cement customers. The solution will support increased production volumes, promote the ease and uptake of alternative fuels and support human operators to make the best decisions for changing operating conditions.
Mr. Diego Areces, Mining, Minerals and Metals Solution President, Schneider Electric said, "Schneider Electric's solutions for the Cement industry focuses on two key areas of importance to our customers – maximizing production and quality across the supply chain and minimizing their energy consumption and emissions. By integrating Ramco's optimization offering, we can provide our customers with a complete solution which supports their complex operational challenges. The combined offer of process control, expert system and energy management allows the deployment of a unique optimization strategy. This strategy will ensure optimum consumption of resources, best use of assets, maintain quality of product, and stabilize processes while building an environmentally sustainable business."
Mr. Virender Aggarwal, CEO, Ramco Systems Limited, said, "It is a moment of great pride as a global multinational like Schneider Electric has chosen our advanced process control optimization solution, OPTIMA, to integrate with its suite of offerings to address the global market. It is an endorsement of the capabilities that we have built to address the needs of the process manufacturing industry. Schneider Electric through its wide network of operations will help explore business opportunities for Ramco OPTIMA in the Cement industry. We look forward to a mutually successful engagement with Schneider Electric."
OPTIMA is an Advanced Process Optimization solution that has been designed to improve plant productivity and efficiency and leverages technologies like fuzzy logic, regression analysis, and artificial intelligence techniques to offer the best-in-class optimization solutions.
About Schneider Electric
As a global specialist in energy management with operations in more than 100 countries, Schneider Electric offers integrated solutions across multiple market segments, including leadership positions in Utilities & Infrastructure, Industries & Machines Manufacturers, Non-residential Buildings, Data Centres & Networks and in Residential. Focused on making energy safe, reliable, efficient, productive and green, the Group's 150,000 plus employees achieved sales of 24 billion euros in 2013, through an active commitment to help individuals and organizations make the most of their energy.
http://www.schneider-electric.com
About Ramco Systems
Ramco Systems provides next generation, end-to-end enterprise solutions that render complete transformation of the business in real time. Built on Ramco VirtualWorks®, all Ramco products are cloud architected by design and address the entire business cycle from transaction to analytics. Part of the USD 1 Billion Ramco Group, the company offers ERP, HCM, MRO, M&E, SCM, CRM, Financials, Service Management, Asset Management, Process Control, Project Management and Analytics to multiple verticals on the most appropriate cloud model—public, private and community. Ramco focuses on providing innovative business solutions that can be delivered quickly and cost-effectively in complex environments. Globally, Ramco has over 150,000 users from 1000+ customer organizations. The company has 20 offices spread across India, USA, Canada, Europe, Australia, Middle East, South Africa and APAC.
"Ramco Systems Limited (the "Company") is proposing, subject to receipt of requisite approvals, market conditions and other considerations, a rights issue of its equity shares and has filed its Draft Letter Of Offer with the Securities and Exchange Board of India ("SEBI"). The Draft Letter of Offer is available on the website of SEBI at http://www.sebi.gov.in, on the website of the lead manager at http://www.centrum.co.in and of the Company at http://www.ramco.com. Investors should note that investment in equity shares involves a high degree of risk and for details relating to the same, please refer to the section titled "Risk Factors" at page xiii of the aforementioned Draft Letter of Offer."
Please note that the issue of Equity Shares under the proposed Rights Issue to persons in certain jurisdictions outside India may be restricted by legal requirements in those jurisdictions. The equity shares proposed to be issued have not been and will not be registered under the United States Securities Act of 1933, nor listed or otherwise qualified in any jurisdiction outside India and may not be offered or sold in any such jurisdiction, except in compliance with the applicable laws of such jurisdiction.
For more information, please visit http://www.ramco.com
Follow Ramco on Twitter @ramcosystems /read latest updates on http://www.ramco.com/blog
Press Contact:
Ramco Systems
Vinitha Ramani
Phone: 91-44-30904204
vinitharamani(at)ramco(dot)com