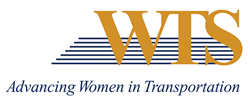 Washington, DC (PRWEB) April 08, 2014
WTS International, the association for the professional advancement of women in transportation, has selected the winners of its annual recognition awards for 2014. Each of the five awards will be presented at an awards banquet on May 15 during the 2014 WTS Annual Conference in Portland, OR. The recognition award winners are:

Woman of the Year – Beverly A. Scott, PhD, Chief Executive Officer/Rail & Transit Administrator, Massachusetts Bay Transportation Authority (MBTA)
Member of the Year – Jeannie Lee, Project Manager, Orange County Transportation Authority
Employer of the Year – Federal Transit Administration (FTA)
Rosa Parks Diversity Leadership Award – Claudia Folska, PhD, RTD Board of Directors, District E
Innovative Transportation Solutions Award – I-5 Skagit River Bridge Replacement Team
"Dr. Scott's efforts to advance women in the transportation industry has inspired many and provided the industry with new workforce development opportunities. Her passion and mission are aligned with WTS International's goals. We're honored that she brings her professional acumen for mission-driven leadership to our organization, and we congratulate her on her Woman of the Year recognition," said Marcia Ferranto, WTS President and CEO.
Dr. Scott is renowned throughout the U.S. and North American transit industry for her visionary leadership, results-driven management style, and progressive approach to labor-management relations. Among her most notable industry contributions is her pivotal leadership role in the critical areas of strategic human resources planning, workforce development, and employee training. Most recently, Scott was named a "Transportation Innovator of Change" by President Barack Obama and the U.S. Department of Transportation for her long record of exemplary leadership and service in the transit industry.
Jeannie Lee, a member of WTS since 2006, was nominated for WTS Member of the Year by her local chapter in Orange County, CA. This recognition is awarded to a member who has shown extraordinary commitment to the goals and growth of WTS and has promoted the reputation of WTS within the transportation industry. Lee began her WTS experience when she was selected by WTS Orange County to receive the highest scholarship award for a Graduate-level student. Now, seven years later, Lee gives back to WTS with her volunteer efforts and service to the transportation community as the chapter's Scholarship Chair—the very role that first awarded her when she was a Graduate student and scholarship recipient. As Scholarship Chair, Lee continues to exceed expectations in her commitment to the chapter as she cultivates the scholarship program.
The Employer of the Year recognition is awarded each year to an organization that has enhanced the transportation industry through its commitment to excellence and quality in its services or products, has an outstanding record of affirmative action in hiring and promoting at all employment levels, supports continuing education of its employees, and encourages women students to enter the transportation field by providing internship opportunities. Currently, 50% of the Federal Transit Administration's leadership team is comprised of women. The FTA has been a driving force in enabling small and disadvantaged businesses, as its leadership has been instrumental in making changes beneficial to small business and is taking an active role in providing opportunities and encouraging women to pursue transportation as a career path. "The FTA is a strong supporter of WTS both locally and internationally, and we are very pleased to be awarding the agency with Employer of the Year. Their dedication to creating learning opportunities, mentorship, and internship make the FTA a model organization for the industry," said Ferranto.
The Rosa Parks Diversity Leadership Award is awarded for exhibiting extraordinary efforts or initiatives in facilitating professional opportunities for women and minorities and contributing significantly to the promotion of diversity, inclusion, and multi-cultural awareness. Claudia Folska has worked to ensure that all people are represented and considered in the design of transportation systems. Folska is blind, and when she realized that there were not many people like her in transportation leadership, she ran—and was elected—for the Regional Transportation District (RTD) Board of Directors in Denver, Colorado. She has leveraged her role on the RTD Board to increase awareness of the needs of persons with disabilities in public transit, and by serving on the RTD Board she has shown other women and those in the disabled community that they, too, can make a difference by getting involved in transportation leadership.
The I-5 Skagit River Bridge Replacement Team will receive the Innovative Transportation Solutions Award, created to recognize its application of innovative techniques to overcome obstacles and the difference it has made in people's lives. When the Washington State Department of Transportation (WSDOT) faced a high-profile emergency on May 23, 2013, due to the collapse of a 160-foot-long section of the I-5 Skagit River Bridge into the river, they hired the design-build team of Max J. Kuney Company with Parsons Brinckerhoff as designer. The team worked closely to prepare a design and construction scheme that met the WSDOT maximum dead load requirements, minimized construction impacts to I-5 traffic, and was constructible within the 90-day schedule. The new, permanent I-5 Skagit River Bridge span opened to traffic on Sept. 15, 2013, 115 days after the initial accident and 88 days after the design-build team's notice to proceed, restoring a vital transportation and trade corridor.
The Awards Banquet will be held during the 2014 WTS Annual Conference, being held in Portland, OR, May 14 – 16. As WTS International's flagship event, it attracts hundreds of corporate and governmental industry leaders worldwide, including executives, CEOs, government administrators, and leading engineering authorities. For more information about the conference, visit http://www.WTSinternational.org.
More information about each of the 2014 WTS Recognition Award Recipients can be found at https://www.wtsinternational.org/about-wts/recognition-award-winners/.
***
WTS International, headquartered in Washington, DC, seeks to attract, retain, and advance women in transportation. As the industry's premier multi-modal association, WTS boasts a network of more than 5,000 transportation professionals—women and men from across the United States, Canada, and Great Britain. Every transportation mode is represented, as is every service within the industry. From federal leaders to engineers and planners, the WTS membership base represents nearly 1,500 companies and 400 agencies in more than 90 cities. More information can be found at http://www.WTSinternational.org.