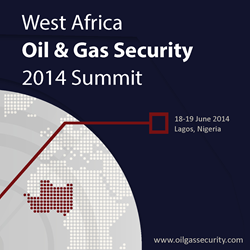 ...it's an IRN Summit.
(PRWEB UK) 10 April 2014
Although there have been attacks in Benin, Côte d'Ivoire, Ghana, Guinea and Togo amongst others, to date most attacks in the region have taken place in Nigeria's Niger Delta region. The latest occurrence of piracy in Angola, Africa's second biggest oil producers, heralds in a new era of acute maritime security concerns for the oil & gas industry across West Africa.
Join us at the West Africa Oil & Gas Security Summit to stay abreast of the constantly evolving and transforming nature of piracy attack. The West Africa Oil & Gas Security Summit will address a number of maritime security issues, including sessions which highlight Proactive defensive measures against underwater sabotage of rigs and a discussion on techniques for mitigating the impact of oil and gas theft from underwater pipelines.
The task of selecting the most effective security systems for offshore installations will also be debated in a highly topical panel discussion, which is to be chaired by an Offshore Security Specialist from Chevron Nigeria. It will have a mixture of oil company security experts and leading service providers as the panellists, and will provide the perfect opportunity for those purchasing the services to highlight the benefits and drawbacks of the tools available to aid them in the task of securing offshore infrastructure.
This timely Summit will be held in Lagos, the fastest growing city in the African continent, on 18th- 19th June 2014.
More information can be found on the website http://www.waoilgassecurity.com, while for regular updates follow @IRN_Security on Twitter and join the LinkedIn Group 'Global Security Networking Platform'.