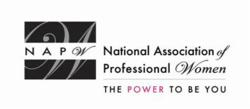 When we think of making history, we often think of some enormous, valiant, groundbreaking, large-scale accomplishment impacting the world. Yet, one simple act of kindness to a fellow woman or girl also makes history.
Garden City, NY (PRWEB) April 09, 2014
Celebrating the accomplishments of women everywhere! Thousands of members and guests from NAPW Local Chapters recognized all that women have accomplished yesterday and today as they gathered at professional networking meetings across the country in March to recognize Women's History Month. From New York to California, Minnesota to Louisiana and nearly every state in between, Local Chapters hosted events where groups of professional women networked, celebrated the important strides women have made and supported one another's professional and personal efforts that are making history today!
NAPW members were also excited about the upcoming NAPW 2014 National Networking Conference: Aspire. Connect. Achieve. on April 25, 2014 at the Marriot Marquis in NYC's Times Square. It is anticipated that 1500 professional women from around the country will attend this year's premier networking event where Keynote Speaker Barbara Corcoran and Robin Roberts, recipient of this year's first-ever NAPW Icon Award, along with other high-profile panelists, will join Host Star Jones, NAPW Spokesperson and Chief Development Officer.
In a recent blog article that celebrated Women's History Month, Ms. Jones reminded members that they, too, can have an impact on society.
"When we think of making history, we often think of some enormous, valiant, groundbreaking, large-scale accomplishment impacting the world. Yet, one simple act of kindness to a fellow woman or girl also makes history," she wrote.
At the Boston, MA Local Chapter networking meeting, Vice President Susan Cunniff's presentation, Women of Character, Courage & Commitment, voiced thoughts similar to Ms. Jones.
"We honor women because of their extraordinary and often unrecognized accomplishments and the tenacity to shine brightly," she said. "Now more than ever, women have been successfully creating a legacy that will expand the frontier for more generations to come!"
Other Chapters such as Binghamton, NY; Indianapolis, MN; Macon, GA; Omaha, NE; Orange County, CA and Orland Park, IL passionately discussed how the accomplishments of other women, famous and not-so-famous continue to inspire and empower.
The celebration of women was also evident at Chapter meetings in Akron, OH; Alexandria, VA; Carrolton, TX; Essex County, NJ; Forest Hills, NY; Greensboro, NC; Jacksonville, FL; Lancaster, PA; Los Angeles, CA; Manassas, VA; Miami, FL; Morris County, NJ; Newport News, VA; New York City, NY; Schaumburg, IL; Suffolk County, NY; Tulsa, OK and Westlake Village, CA when guest speakers shared their expertise in everything from skincare and image presentation to finance, marketing and business.
Ms. Jones and Louise Newsome, NAPW National Director of Local Chapters, met with more than 50 professional women from the San Diego Local Chapter to discuss the important impact professional women can have on today's world.
"Ms. Newsome showed extreme excitement for NAPW, which radiated across to the members. She expressed what the organization had in store for the future of professional women and the importance of women in power to be women business owners," said Chapter President René Reyes. "The members embraced Ms. Jones' passion for the success of all women on a global scale. With understanding the nature of success, she applied the importance of a career-driven person to give back to their communities."
They also stopped by for a visit with Local Chapters in New Orleans, LA during its February Mardi Gras networking event and in Norfolk, VA for a luncheon. Members and guests in Seattle, WA are looking forward to upcoming visits from the two women in April.
NAPW Local Chapters across the country share Ms. Jones' passion for giving back. Last month, Delmarva, DE; El Paso, TX; Joplin, MO; Ocala, FL; South Orange County, CA; Philadelphia, PA; San Mateo, CA; Stafford, VA and Waldorf, MD hosted charity events, welcomed speakers from nonprofit organizations and discussed support of local and national charitable groups.
From traditional networking meetings such as those in Eastern LI, NY; Fairfield, Ct; Cedar Rapids, IA, Ann Arbor, MI; Centennial, Co; Loudoun County, VA; Scranton, PA; Warwick, RI and DeKalb-Gwinnett, GA to more creative events such as wine tastings in Chapel Hill, NC and Indianapolis, MN and a group painting class in Madison, WI, NAPW members and their guests made connections, supported one another and continued to empower themselves by taking charge of their professional and personal lives.
"We have been given this wonderful gift of synergy within our Chapter. We can all credit each other for making this happen," said Boston, MA Local Chapter President Lisa Stunin. "There are no limitations to what we can do for ourselves and for each other and our community."
The National Association of Professional Women (NAPW) is the largest and most recognized network of professional businesswomen. NAPW provides a forum where women can interact, exchange ideas, educate, network and empower. NAPW Local Chapters allow members to maximize their experience through meetings, networking opportunities and professional events.
For additional information regarding Local Chapters and/or NAPW, please visit http://www.napw.com.