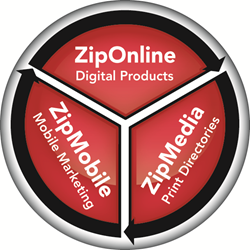 "People who say phone book companies are living in the past clearly haven't seen Ziplocal!"
Salt Lake City, Utah (PRWEB) April 09, 2014
Longtime directory publisher implements a Sales Force Automation system unique to its versatile clientele.
People who say phone book companies are living in the past clearly haven't seen Ziplocal.
In conjunction with the first quarter launch of three client-facing digital marketing products, Ziplocal rolled out a custom-made Sales Force Automation (SFA) system to help its national sales team stay connected to its array of clients.
"It's been in the making for several months," said Jennifer Nielson, Ziplocal's VP & Managing Director – Strategic Product Development & Marketing. "Our new SFA environment improves all facets of our business, integrating customer service with sales and production."
Ziplocal's SFA system exists entirely online and serves as a portal for sales teams to input client's purchase information, sending it directly to the provisioning and support teams to create successful multi-faceted advertising campaigns.
"Our sales teams have embraced it and the entire company is thrilled to have it," Nielson said of the new SFA system, which officially launched at Ziplocal's annual sales training convention in Salt Lake City. "This will help us communicate with each other more effectively, help us reach our clients quicker and fulfill our clients' marketing objectives faster."
The same week this new SFA system as launched, Ziplocal also rolled out a robust SEO product suite, a mobile marketing suite and introduced a new mobile app touted as one of most intelligent digital bridges from print to digital in the ever-evolving yellow pages industry.
For more on those new products, visit leads.ziplocal.com or call 800-553-0801.
About Ziplocal
Ziplocal is a local search company that reaches communities all across the United States with digital advertising innovations delivered through mobile devices,
the Internet and traditional print media. With a dedicated on-the-ground sales force, combined with telephone sales and support, Ziplocal currently reaches more than
290 U.S. markets in 33 states. Ziplocal's robust local search products combine comprehensive data, as well as the latest geo-targeting technologies, with a focus on delivering results for advertisers and the best end-user experience for consumers.
About Polylogics.
Polylogics Consulting, Inc. has been providing software solutions and services to directory publishers for 30 years. Its end-to-end system, DIAD, is the gold standard of the print and digital publishing industry, covering database management, sales lead generation, contract entry, billing and A/R, commissions, collections, customer service, ad management, listing management, pagination, and the DIADnet Sales Reporting suite. Additional services include eBilling (electronic payment processing), eProofing (electronic ad proofing), and SFA (Sales Force Automation).