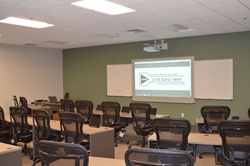 This is what automotive professionals have been waiting for, a dedicated place where technicians and owners can receive only the best hybrid vehicle education without distractions.
Port Angeles, WA (PRWEB) April 23, 2014
Automotive Research and Design (AR&D) announced this week a ground-breaking training center with a primary focus on Hybrid and Electric Vehicle (HEV) hands-on training. Located in Fitchburg, WI, this training center will be the headquarters for training courses offered to automotive service and education professionals. It will provide training to current and prospective The Hybrid Shop International Dealer Network, courses credentialed by the Society of Automotive Engineers (SAE) International.
National and international students will obtain HEV Technology training that empowers them with confidence, knowledge, skills, and competencies to effectively diagnose and service all vehicle makes and models. The location is centralized in the U.S. providing easy access to students throughout the nation.
Dr. Mark Quarto, Chief Technical Officer of AR&D, views the new facility as a means of closing the gap between OEMs and the aftermarket: "This training center environment will be the first of its kind in the automotive aftermarket, to educate and train students by bridging the complex OEM hybrid and electric systems technology with innovative aftermarket diagnostic and service engineering solutions that are powered by AR&D."
The 6,500 square-foot facility is equipped to comfortably support 24 participants in an interactive classroom with an adjacent 4,000 square-foot shop. The state of the art classroom was designed to provide a fully interactive environment, complete with interactive projection screen and tablet PCs at each participant training station. The participants will have the ability to share files between computers, submit questions to the instructor, and take quizzes in real time.
"The increased technology is designed to make the classes more interactive, which has been shown to improve retention of complex subjects," says Jeff Minter, the Executive Director of Technical Training at AR&D, the project manager creating this facility. "In addition to the classroom improvements, having a dedicated shop area will allow us to ensure consistency in the hands-on training."
The shop area will support up to six vehicles for hands-on training purposes, as well as a full array of equipment including OEM and aftermarket scan tools, thermal imaging cameras, and AR&D's hybrid electric vehicle battery and electric transmission diagnostic and repair equipment kits.
The training center will be the first dedicated aftermarket facility of its kind to offer training on a regular basis specifically for Hybrid and Electric Vehicle Systems. The training schedule will include several course offerings including the SAE International Advanced HEV Diagnostics Certificate of Competency (CoC), the first and only recognized industry HEV credential requiring 4 days of hands-on training with both practical and written proctored final exams on Day 5.
"We have incorporated elements obtained by simply listening to the needs of educators, technicians, partners, and business owners to ensure we deliver the absolute best training and interactive learning environment possible," says Chris Quarto, Founder and CEO of AR&D.
Matt Curry, CEO of The Hybrid Shop, an AR&D partner, feels that the company has succeeded in creating an environment that meets and exceeds the needs of the aftermarket, stating "This is what automotive professionals have been waiting for, a dedicated place where technicians and owners can receive only the best hybrid vehicle education without distractions. This is a very positive step for AR&D, for The Hybrid Shop, and for the aftermarket as a whole".
The facility is holding a grand opening on May 15th with a 1-day training event and exclusive industry reception. Participants will "test drive" AR&D's technology and learn more about the Hybrid Shop model. The event is limited to only 30 participants, who should contact AR&D directly to RSVP.
Year 2014 AR&D training schedule includes course offerings in Kauai, HI; Portland, OR; Flat Rock, NC; and Worcester, MA. A full schedule, description of courses, and registration information is on AR&D's website. A full schedule of courses offered at the AR&D training center will be available after the grand opening event.
Automotive Research and Design was founded in 1987 as an Engineering and Technology company focused on developing and manufacturing specialty diagnostic equipment, Hybrid and Electric Vehicle service solutions, Curriculum delivery methods, Special Projects, and Consultations.