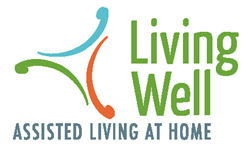 Tiburon, CA (PRWEB) April 09, 2014
Living Well Assisted Living at Home is proud to announce that they have received recognition by Home Care Pulse with the Best of Home Care award. Home Care Pulse only grants this award to top ranking home care providers, based on their gathered client and employee satisfaction scores.
Living Well Assisted Living at Home is now ranked among a select few of the best home care providers in the country. The company was recognized for its work ethic, timeliness of caregivers, knowledge, compassion, problem solving attitude and overall quality service.
"We know that sometimes it is difficult to make care decisions for a loved one, especially when you have never searched for a home care provider before," commented Aaron Marcum, founder of Home Care Pulse. "We work to make this process easier by helping families make an informed decision, based on a tangible measurement of quality: client feedback. Our goal is to help families choose a trusted provider to care for their loved ones."
Home Care Pulse, a company which measures client and employee satisfaction, created the award to identify those agencies in the private duty home care space that demonstrated a passion for client and employee satisfaction. Home Care Pulse believes that honoring such companies can both educate and help families to make better care decisions for their aging loved ones.
"Because one-size does not fit all, we believe that through accurate diagnosis of people's cognitive strengths and vulnerabilities, we can develop support and programming that appropriately stimulates, offers joy, decreases agitation and helps people to remain safe in their own homes and within their communities, even when experiencing debilitating stages of dementia…", said Dr. Doris Bersing, President and Founder of Living Well. See more at: http://www.livingwellah.com/dementia-care-at-home.php#sthash.yhCMkn2J.dpuf.
The selection process for the "Best of Home Care" includes the evaluation of client and employee satisfaction in areas such as agency training, communication, overall quality of care, caregiver performance, caregiver morale, response to problems and recommendation of services, to name a few.
"We want to congratulate Living Well Assisted Living at Home for winning the 'Best of Home Care' award and commend their commitment to placing high priority on client and employee satisfaction," concluded Marcum.
To find out more about the "Best of Home Care" award or Home Care Pulse, visit http://www.bestofhomecare.com.
About the company:
Living Well offers specialized care for adults with chronic and debilitating conditions — like Alzheimer's, Parkinson's, ALS, and mental illness — that compromise their ability to live safely in their homes. At Living Well Assisted Living at Home, they combine a team of experts and the use of smart technology with exceptional customer service to deliver personalized, comprehensive care to seniors and adults with cognitive, behavioral, and movement disorders. Their approach to care at home enables those seniors and adults affected by Alzheimer's disease and other forms of dementia, Parkinson's, ALS, other neurological disorders and mental illnesses to live independent and meaningful lives. At Living Well, they aspire to create a safe and nurturing environment while allowing for independence and dignity for seniors and adults and offering peace of mind to the children and family members. Visit their website for more information, http://www.livingwellah-sf.com.