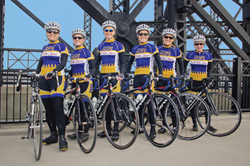 Silver Spring, MD (PRWEB) April 09, 2014
Team PHenomenal Hope, a four-woman relay team, will cycle 3,000 miles non-stop across 12 states this June as they compete in the Race Across America. Dr. Patricia George, pulmonologist and lung transplant physician in the UPMC Comprehensive Pulmonary Hypertension Clinic, is part of this team, which is helping to raise awareness of pulmonary hypertension and funds to support the search for a cure.
Pulmonary hypertension is a rare and serious illness. Because its symptoms are similar to symptoms of more common ailments such as asthma, COPD and lack of fitness, PH patients are frequently misdiagnosed. Many receive a proper diagnosis only after being misdiagnosed by three or more doctors over a multi-year period. Nearly three-fourths of patients have advanced pulmonary hypertension by the time they are diagnosed.
In solidarity with Team PHenomenal Hope, PHA will host the PHenomenal Mile, a nationwide day of action, on April 12. To date, 77 groups in 30 states, plus Puerto Rico, have committed to walk a mile or engage in some form of physical action to help raise awareness of PH.
Lauren Boyton will be holding a PHenomenal Mile event at the Philadelphia Museum of Art in memory of her best friend Brooke Golden, a PH patient who lost her battle with the disease at age 22.
In Euclid, Ohio, the Godina family will walk in in memory of their daughter Ellie, who lost her battle with the disease at age 2 ½. ).
"Events like these have allowed PHA to generate more than $12,500,000 in research commitments since 2001 and to break the isolation of a rare disease by bringing patients together for support, education and advocacy," says Rino Aldrighetti, President of the Pulmonary Hypertension Association.
Anyone can get involved in raising funds for PH, right where they live. Register for free online or go public and make a PHenomenal Mile Meet-up.
Wherever you live, whatever your capacity, commit to walking with us.
For more information about Team PHenomenal Hope, visit http://www.TeamPHenomenalHope.org.
For more information about Race Across America, visit http://www.RaceAcrossAmerica.org.
About the Pulmonary Hypertension Association
PHA, headquartered in Silver Spring, Md., is the country's leading pulmonary hypertension organization. PHA is unique in its approach of connecting the entire PH community of patients, families and medical professionals. Its mission is to find ways to prevent and cure pulmonary hypertension and provide hope for the community through support, education, research, advocacy and awareness. PHA provides free access to information on its website about pulmonary hypertension, facilitates over 240 support groups around the nation, and delivers continuing education for medical professionals. To learn more about PHA, visit: http://www.PHAssociation.org.