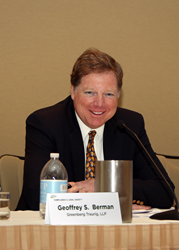 ORLANDO, FL (PRWEB) April 09, 2014
Geoffrey S. Berman, co-managing shareholder of the New Jersey office of the international law firm Greenberg Traurig LLP, spoke at the April 2014 Securities Industry and Financial Markets Association (SIFMA) Compliance & Legal Society Annual Seminar held in Orlando, FL. Berman has more than 20 years of legal experience in both the government and private sectors. He focuses his practice on commercial litigation and criminal and regulatory investigations. From 1990 to 1994, Berman was an Assistant U.S. Attorney in the Southern District of New York where he handled complex criminal prosecutions, including tax and securities violations. From 1987 to 1990, Berman was an Associate Counsel in the Office of Independent Counsel Iran-Contra, where he successfully prosecuted a former CIA employee for tax fraud. Berman graduated from the University of Pennsylvania (B.A.) and the Wharton School (B.S.) in 1981, where he was elected to Beta Gamma Sigma. In 1984, Berman received his J.D. from Stanford Law School, where he was Note Editor of the Stanford Law Review.
About Greenberg Traurig, LLP
Greenberg Traurig, LLP is an international, multi-practice law firm with approximately 1750 attorneys serving clients from 36 offices in the United States, Latin America, Europe, the Middle East and Asia. Greenberg Traurig is among the Top 10 law firms on The National Law Journal's 2013 NLJ 350, an annual ranking of the largest firms in the U.S. For additional information, please visit http://www.gtlaw.com.