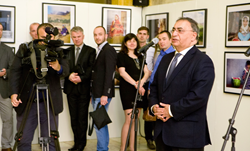 Tonight, Azerbaijan has been brought to Slovakia, and I welcome this unique initiative by TEAS.
Bratislava, Slovakia (PRWEB UK) 9 April 2014
On 8 April, over 300 diplomats, deputies, journalists and celebrities – including famed soprano Anna Netrebko – packed the historic Dvorana room of the Ministry of Culture of the Slovak Republic in the heart of Bratislava for the launch of the 'Azerbaijan Through the Lens' exhibition. This was organised by The European Azerbaijan Society (TEAS), under the auspices of Marek Maďarič, Minister of Culture of the Slovak Republic.
At the opening, Ivan Sečik, State Secretary, Ministry of Culture of the Slovak Republic, commented: "Tonight, Azerbaijan has been brought to Slovakia, and I welcome this unique initiative by TEAS. There are many commonalities between Azerbaijan and Slovakia. It is a privilege that, after being shown in several major European cities, Bratislava has been selected as the first city in the Central and Eastern Europe region to host those 100 exceptional masterpieces representing Azerbaijan, its vibrant society, history, art, architecture and people.
"During my student years, I travelled around Azerbaijan, and these photos reminded me of my time in the country. I am delighted to open this exhibition in Bratislava and look forward to attending further events organised by TEAS in Slovakia. Marek Maďarič, Minister of Culture of the Slovak Republic, asked me to express his delight that he was able to offer his official auspices to host this event."
Lionel Zetter, Director, TEAS, explained: "We have taken 'Azerbaijan through the Lens' throughout Europe to many countries, and it is a great pleasure to bring it to Slovakia. Azerbaijan and Slovakia have some common elements – both have populations below ten million, yet they have beautiful scenery and architecture, and feature a combination of the modern and ancient. Both fell under Soviet influence for many years.
"However, unlike Slovakia, one aspect is different – almost 20 per cent of Azerbaijani territory remains under Armenian occupation, and that is a great source of sorrow in Azerbaijan. However, this exhibition is more about the beauty of Azerbaijan, and I hope you will be inspired to find out more about the country."
Dr Asim Mollazade, Azerbaijani MP, Chairman, Party for Democratic Reforms recalled: "When looking at the photographs on display, we should remember that Azerbaijan was the first Eastern country with European culture. It was responsible for the first opera, ballet and jazz band in the Eastern world. The country has great experience of multiculturalism. For example, during the dark days in Europe, Jews under threat came to Azerbaijan as a place of refuge."
"Azerbaijanis have always experienced and welcomed cultural exchange, and the country is renowned for its tolerance and for creating a partnership with other nations through culture. Jews, Muslims, Protestants, Catholics and Orthodox worshippers all coexist in my country. In these photos, you can see the cultural traditions of Azerbaijan. I hope that a Slovak Centre will soon be opened at Baku Slavic University, so that young people in Azerbaijan will come to know Slovakia and its history, that they will come to Slovakia to study, and that Slovak students will enrol at the Azerbaijan Diplomatic Academy. I hope this exhibition will herald a spirit of greater co-operation between our two countries."
Associate Professor Jalal Gasymov, Azerbaijani Honorary Consul in Slovakia, said: "I welcome TEAS' organisation of such a beautiful exhibition in Slovakia. I am delighted to hear that TEAS regularly organises such events and has come to Bratislava. This will help to stimulate further understanding and co-operation between Slovakia and Azerbaijan."
Dr Roman Huna, Head, TEAS Belgium, concluded: "I am very proud that 'Azerbaijan through the Lens' permits a Slovak audience to admire the beauty of Azerbaijan, and to increase their knowledge of this fascinating pearl on the Silk Road. There are many parallels between Slovakia and Azerbaijan, and TEAS aims to facilitate bridges between these two countries. I am delighted that talks on a treaty to eliminate double taxation between the two countries are currently taking place."
'Azerbaijan Through the Lens' was previously shown in London, Paris, Berlin, Brussels and Istanbul – the cities where TEAS has offices.
The photographs were selected from around 750 submissions received from photographers based in Azerbaijan and across the world that were entered for a TEAS-run competition. The winner was Asim Talib for his delightful photograph 'Old Men', taken in 1985 in Kelbajar, currently occupied by Armenia.
Second prize was taken by an amazing representation of the ceiling of the 'Bibi Heybat Mosque' by Etibar Jafarov. Originally constructed in the 13th Century, and visited by author Alexandre Dumas in the 1840s, this was destroyed by the Bolsheviks in 1936. Following the regaining of Azerbaijani independence, the reconstructed mosque was reopened in 1997.
Fuad Babayev took the photograph that received the third prize – 'The Flames and the Needle'. This focused on the Flame Towers, a new icon of Baku, juxtaposed against the telecom tower.
During the opening, vibrant music was performed by Azerbaijani violinist Dr Sabina Rakcheyeva, Cultural Advisor, TEAS, who was the first Azerbaijani graduate from the Juilliard School in New York. Playing alongside the London-based Deco Ensemble, she performed a range of works by the Argentine composer Astor Piazzolla, Vagif Mustafazadeh and arrangements of Azerbaijani traditional pieces.
A selection of images from the exhibition can be seen at http://www.teas.eu/azerbaijan-through-the-lens.
8–12 April
Azerbaijan Through the Lens: Photography Exhibition (Slovakia)
Dvorana, Ministry of Culture of the Slovak Republic, Námestie SNP 33, 81331, Bratislava, Slovakia
10.00–18.00hrs. Free admission.
RSVP to brussels(at)teas(dot)eu