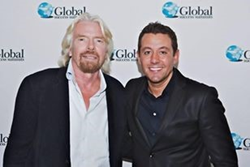 (PRWEB) April 11, 2014
A multi-millionaire by his mid-twenties, Greg left the trading floors of the large financial institutions after developing one of the first ever real-time Foreign Exchange Trading Systems. Greg decided to leave and set up a trading floor from his home. With interest from family and friends, Greg started to share the 'secrets' of his trading success with others, and thus, Knowledge to Action was born.
Since 2003, 100,000 people have attended Knowledge to Action's Forex Trading Seminars and the company has grown internationally throughout Europe, South Africa and Australia.
In the risky market that is Foreign Exchange Trading, Knowledge to Action and Greg Secker has of course been no stranger to criticism as is expected in the highly-competitive world that is the finance industry.
What they offer is education that Greg Secker's has developed and taught based around trading strategies that he had discovered on his travels around international trading floors. Knowledge To Action creates strategies and support their customers on their journey into trading the Forex markets. See testimonials at http://www.youtube.com/user/KnowledgetoActionAus.
Greg toured around Australia and New Zealand in February 2014 as part of his annual Millionaire Trader Tour.

Melbourne CBD – RACV Club – Wednesday 12th February
Adelaide Intercontinental Hotel – Saturday 15th February
Auckland Pullman Hotel – Monday 17th February
Perth Pan Pacific Hotel – Tuesday 18th February
Greg also spoke in Sydney and Brisbane as part of the 'Secure the Future' 2014 Superconference. At this event, Greg spoke alongside Harry S. Dent, the 'Houdini' of the prediction world, and Mal Emery, Business Icon and Millionaire Maker.
Greg is an excellent speaker and wowed the audience with his wise words on business and financial success. Forex trading requires hard work and persistence, but with the strategies and guidance offered by his team at Knowledge to Action, Greg tells us how it is possible to use trading as a source of income and how many of the graduates have done exactly that.
For more information, please go to their website http://www.knowledgetoaction.com.au, Linkedin, Facebook and Twitter.