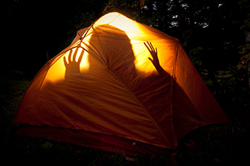 We can't wait to see the videos and hear the stories that get shared as a part of this contest!
Boyd, WI (PRWEB) April 09, 2014
Ever since mankind has developed the necessary communication skills to tell a story, we have been. People—everybody—everywhere, love hearing a well-spun yarn which is why people came up with a day to honor the art of oral story telling. April 27 is National Tell a Story Day.
Tell a Story Day is typically celebrated in grade schools and the youth section of public libraries with hired pros who know how to tell a good tale. Since telling stories around a campfire is such an essential element of the summer camp experience, the people at Everything Summer Camp felt it was only right to present a contest to help celebrate National Story Day.
While the national day includes the celebration of all kinds of stories, Everything Summer Camp wants kids to share scary summer camp stories . The kind campers share with everyone else as they all sit around a campfire.
Join in on the fun and have a chance to win a $100 gift certificate to Everything Summer Camp. Here's how: first, make up, or retell, a good, scary story. Then, record a video of your story. The video can be as simple as holding a flashlight underneath the chin or as grandiose as involving a small cast and props to make a cool, mini-movie! Lastly, upload your spooky video to YouTube and submit your entry information on the Everything Summer Camp, Tell Us Your Scary Story Contest sign-up page. Story tellers should read the official contest rules before they enter.
Video entries should be no longer than 10 minutes long and, of course, the content of this video should be appropriate for all ages. Make sure to keep all stories clean! If the story wouldn't be appropriate at summer camp, it's not appropriate for this contest.
Entries must be submitted and videos must be uploaded by 1:00p.m. CST on April 27. Two winners will be chosen—each will win a $100 gift certificate to Everything Summer Camp.
One of the winners will be chosen by public votes. The more people an entrant can get to vote for their video, the better his/her chances are of winning. The other winner will be chosen from an internal vote at Everything Summer Camp.
"We can't wait to see the videos and hear the stories that get shared as a part of this contest," says Mark Sieglaff, Vice President of Everything Summer Camp.
About Everything Summer Camp
Everything Summer Camp has been helping kids get ready for summer camp since 1987. Their wide selection of camping gear includes camp trunks and other camping supplies. Top selling items include water bottles, cot-sized bedding, rain jackets, insect repellent, iron on labels, and more. Known for their customer service and fast shipping Everything Summer Camp is recommended by more camps than any other camp outfitter.
Visit http://www.EverythingSummerCamp.com to learn more about camp footlockers, name labels, duffel bags, and camping supplies.