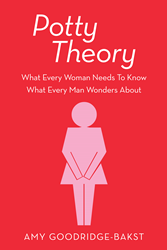 Not every potty experience proceeds as planned
Cincinnati, Ohio (PRWEB) April 11, 2014
As a natural-born "potty theorist," Amy Goodridge-Bakst knows that not all bathrooms are created equal.
"Not every potty experience proceeds as planned," Goodridge-Bakst said. "Often there is an unforeseen snafu that leads to an unanticipated hitch. Potty education and everyday experience can help curtail such unfortunate events. You must learn to adapt like a chameleon to any obstacle that may creep into your path."
Her latest book, "Potty Theory," inspired by her mother's everyday advice and rules on bathroom etiquette, is filled with laughable, but helpful tips and tricks for surviving any type of bathroom environment.
The experiences, observations and priceless potty lessons Goodridge-Bakst shares are bursting with humor, honesty and empathy that will have women laughing along as they relate to the familiarity of the dilemmas and men finally understanding why a simple trip to the ladies room can often take more than few minutes.
Amy Goodridge-Bakst entertainingly shares not only how to laugh at yourself while avoiding the germs lingering on toilet seats everywhere, but also how to maintain compassion, understanding and kindness for others both in and out of the "pottysphere."
Whether from the comfort and quiet of a home toilet or the torture and disgust of a public pot, "Potty Theory" is the perfect potty manual to help all readers take on toilets with confidence.
For more information on "Potty Theory", visit http://www.amygoodridgebakst.com.
"Potty Theory"
By: Amy Goodridge-Bakst
ISBN: 978-1-4918-1702-5
Available at Amazon, Barnes and Noble and AuthorHouse online bookstores.
About the author
Amy Goodridge-Bakst has a B.B.A degree in marketing from the University of Cincinnati, a B.A. degree in fine arts from Northern Kentucky University and an A.J.P. diploma from the Gemological Institute of America. In addition, she has also had a notable career in retail working for companies such as Louis Vuitton and Tiffany & Co. As an outgoing and fun loving woman, Amy enjoys spending time painting, writing and traveling. Currently Amy resides in Cincinnati, Ohio with her husband Jeff and two cats, Midnight and Snoop.
###
EDITORS: For review copies or interview requests, contact: Jaymie Shook
317-602-7137 | jshook(at)bohlsengroup(dot)com
(When requesting review copies, please provide mailing address.)