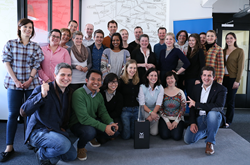 This wasn't about a new communication channel... It was about a well-thought out project strategy for an important social issue.
Brussels, Belgium (PRWEB UK) 9 April 2014
ZN is thrilled to be announced as the winner for Best Use of Social Media in the category of Healthcare at the 6th Annual Shorty Industry Awards in New York City. On April 8, Martina O'Regan proudly accepted the award on behalf of ZN for its work on Break Dengue – an initiative that uses several social media channels each day to help raise levels of awareness and better connect ordinary people, governments, health professionals and industry giants around the preventable, yet potentially fatal, dengue fever.
The Shorty Industry Awards honor the talented agencies, brands, and industry leaders behind the best social media channels, campaigns, websites, games, and applications. ZN was one of the few nominated European entrants and the award is a first for the company.
"For me, this proves that we understand the fundamental change that digital brings. This wasn't about a new communication channel, because social media is just one piece of the puzzle. It was about a well-thought out project strategy for an important social issue. And it is because it is a social cause which meets the needs of thousands of people that Break Dengue has an impact both online and offline," said Nicholas Brooke, CEO.
The Brussels-based digital consultancy helped create Break Dengue in 2013 to combat dengue fever – a preventable flu-like illness that has grown dramatically in recent decades. A major international public health concern, the World Health Organization says that about half of the world's population is now at risk from this painful and potentially fatal mosquito-borne viral infection.
Break Dengue is helping combat the disease by empowering the many different audiences who have an interest in dengue. The information it provides includes tips on dengue prevention, the latest news on Dengue fever, and real stories from both healthcare professionals and ordinary people who have encountered the disease.
"What we are building together is just the start of something truly amazing… from this place where anyone – from key stakeholders to ministries of health to individuals – can meet, discuss, and collaborate to combat this disease, I know that we will be able to contribute to the greater good," said Danielle Miller, Editor, ZN.
The timing of the award couldn't be better as this week marked World Health Day, an annual event which is focused on vector-borne diseases this year. With dengue high on the agenda, Break Dengue gained a lot of interest: Alejandra Laiton, travel blogger for Break Dengue, was interviewed by the BBC in Singapore; the Times of India wrote an article about Break Dengue's India Prize winner; and the International Federation of Red Cross and Red Crescent Societies collaborated with the team upon publication of their report, Dengue Turning up the volume on a silent disaster.