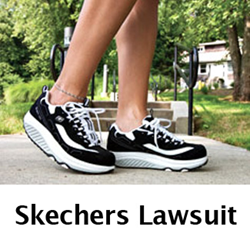 If you have been injured by Skechers Shape-Ups or Toning Shoes, Contact Wright & Schulte LLC for a FREE Skechers lawsuit consultation at 800-399-0795 or visit yourlegalhelp.com
Columbus, OH (PRWEB) April 09, 2014
The federal judge overseeing hundreds of Skechers lawsuits in the U.S. District Court for the Western District of Kentucky has granted a motion filed by the Plaintiffs' Steering Committee to establish a Skechers MDL Settlement Questionnaire and Mediation Process in order to facilitate resolution of all Skechers injury claims. In an Order dated March 6, 2014, U.S. Senior District Judge Thomas B. Russell stayed all pending and future Skechers Shape-Ups lawsuits for a period of seven months, and tolled the statutes of limitations governing the cases during the period of the stay. While the stay is in effect, each claimant must submit a completed and executed MDL Settlement Questionnaire to the defendants in accordance with the schedule set forth in the Order. (In Re: Skechers Toning Shoes Products Liability Litigation – MDL 2308)
About Skechers Lawsits
According to court documents, more than 700 Skechers toning shoe lawsuits have been filed in the Western District of Kentucky that allege the use of Skechers Shape-Ups toning shoes caused plaintiffs to suffer a number of serious injuries, including stress fractures, joint injuries, tendon and ligament injuries, and acute injuries from falling. Richard W. Schulte, a partner with Wright & Schulte LLC, is serving on the Plaintiffs' Steering Committee for the Skechers Shape-Ups litigation.
Court records indicate that the March 6th Order is just the latest indication that the Skechers lawsuits pending in the Western District of Kentucky may be heading towards a settlement. In another Order dated October 17, 2013, the Court appointed a Special Settlement Master to act as a mediator in settlement negotiations, and directed him to take the necessary steps to promote Skechers Shape-Ups settlement discussions.
According to Skechers lawsuits, the manufacturer of Skechers Shape-Ups marketed the toning shoes by touting their purported ability to enable a user to "Shape Up While You Walk," and "Get in Shape without Setting Foot in a Gym." However, plaintiffs point out that a study conducted by the American Council on Exercise (ACE) in 2010 raised serious questions about the efficacy and safety of toning shoes like Skechers Shape-Ups. By 2011, Consumer Reports had revealed that Skechers Shape-Ups and similar shoes had been the subject of more injury complaints than any other product in its database.
[http://www.acefitness.org/getfit/studies/toningshoes072010.pdf, ACE, August 2010]
[consumerreports.org/cro/news/2011/05/are-toning-shoes-unsafe-reports-of-injuries-raise-concern/index.htm, Consumer Reports, May 2011]
In May 2012, the manufacturer of Skechers Shape-Ups agreed to pay $40 million to settle charges with the Federal Trade Commission (FTC) that it had made unfounded claims that Shape-Ups would help people lose weight, and strengthen and tone their buttocks, legs and abdominal muscles. While the settlement provided consumers with refunds for the purchase of their shoes, it did not include compensation for any personal injuries allegedly caused by Skechers Shape-Ups.
[ftc.gov/opa/2012/05/consumerrefund.shtm, FTC, May 16, 2012 ]
Wright & Schulte LLC continues to offer free Skechers injury lawsuit consultations to anyone who suffered a serious injury while using Skechers Shape-Ups, including broken ankles, hip and wrist fractures, tendon and ligament damage, and head and spinal cord injuries. For more information on filing a Skechers Shape-Ups injury lawsuit, or to arrange for a free legal consultation, please visit yourlegalhelp.com, or call 1-800-399-0795.
About Wright & Schulte LLC
Wright & Schulte LLC, an experienced personal injury firm, is dedicated to the belief that America's legal system should work for the people. Every day, the attorneys of Wright & Schulte LLC stand up for the rights of people who have been injured or wronged by defective drugs and their side effects, complications from defective medical devices, and unsafe consumer products, and fight tirelessly to ensure that even the world's most powerful corporations take responsibility for their actions. If you're looking for a law firm that will guarantee the aggressive and personal representation you deserve, please do not hesitate to contact Wright & Schulte LLC today. Free case evaluations are available through yourlegalhelp.com, or call 1-800-399-0795.
Contact:
Wright & Schulte LLC
812 East National Road
Vandalia, Ohio 45377
1-800-399-0795
http://www.yourlegalhelp.com