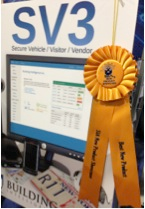 ...it validates that we are good listeners and have thoughtful clients. We are looking forward to sharing this win with them.
Las Vegas NV (PRWEB) April 10, 2014
The 2014 ISC West expo attracted more than 26,000 security professionals making it the largest ISC West expo since 2007. One highlight of the expo was the New Product Showcase (NPS) which set its own record of 105 entries from 88 companies. NPS is the security industries leading awards-based publicized program.
The solutions and products presented represent cutting-edge security solutions that shape the industry. All products are presented to a panel of judges consisting of individuals who are skilled and experienced in security technology design and application. There are 26 categories and only one product is recognized by all judges as the "Best New Product".
This award is based on the following criteria: level of innovation, the ability to fill a market void, the degree of improvement over current market offerings, the strength of its unique features and function, and price or benefit value.
Building Intelligence Inc. won this prestigious award when they presented their new SV3 software application. The SV3 brand which represents Secure Vehicle, Visitor & Vendor is designed to protect buildings from the unknown by ensuring that people and vehicles are identified, vetted and verified prior to gaining access to secured areas.
SV3 brings value as a standalone application. When integrated with other software and hardware technology such as access control systems, handheld devices, license plate and driver license readers, SV3 significantly enhances and automates process resulting in a substantial improvement in security operations.
Building Intelligence customers have proven to increase efficiency, reduce costs and minimize risk of incident. SV3, by Building Intelligence, was acknowledged as one of the most unique products in the NPS because it addresses Enterprise Risk Management at the back door delivering security and operational value.
"This validates our efforts. The recognition validates our client's choices. Quite frankly, it validates that we are good listeners and have thoughtful clients. We are looking forward to sharing this win with them," said Jeffrey Friedman, President and CEO of Building Intelligence.
SV3 is currently deployed in several high profile buildings and campuses throughout the North East United States. Building Intelligence is expanding rapidly and creating a presence throughout North America. International expansion is in the near future.
About Building Intelligence Inc.:
Providing innovative technology solutions for security practitioners and building owners to manage visitors, vehicles and vendors, Building Intelligence Inc. is a privately owned business based in New York City. Our cloud-based solutions are known as Shortpath, SV3 and Secure Vendor. Uniquely positioned to provide the tools for managing vendors as they enter on foot through the front door or in a vehicle at the loading dock area, our modular solution set is becoming widely adopted in many major metropolitan markets. The cloud component to our solution results in the lowest possible total cost of ownership. The greatest security risks never use the front door and managing visitors only as they enter the front is an inadequate security strategy. Whether your company is a 50,000 square foot office building, a multi-building campus or a global corporate environment, using Building Intelligence, Inc. solutions result in the ability to have complete account of who and what unknown entities are on site and at whose request. "Watch lists" can be managed and enforced on a global level. Chief Security Officers can track vehicles that are on campus, identify them by relationship with an authorized person or company and maintain a complete audit trail of their visit.