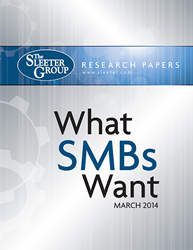 Most small businesses are generally happy with their accountant, but the ever-evolving technology landscape creates complexities for them, and they want their most trusted financial advisor to assist them with these challenges.
Pleasanton, CA (PRWEB) April 10, 2014
Small business owners are pressed with constantly changing competition and are looking for ways to get ahead and stay there, and they expect their accountant to help them meet this challenge.
That's according to a new survey by The Sleeter Group, which showed that 72 percent of small business owner respondents have changed their CPA or accounting firm in the past at least in part because the firm "did not give proactive advice, only reactive service." More than 60 percent said this factor played a significant or large role.
The new study, What SMBs Want 2014, surveyed small business owners across the country on a variety of factors that involve CPAs, from how they prefer to communicate with their financial professional, how tech-savvy that pro is, what services their accountant provides, and why they've switched CPAs in the past.
Businesses Want More Service from their CPAs
When asked what types of services SMBs want their CPA to provide them in addition to tax preparation and bookkeeping, more than 57 percent stated they would like more business planning and strategic advice, while about 30 percent want more tax planning, 20 percent want help with cash management and forecasting, and 21.5 percent want better business analytics.
Other Notable Findings:
Technology

85 percent want their accountant to help them be proactive with technology for their business.
76 think their CPA is not proactive enough in helping them.
70 percent think the accounting firm they use is only current or behind on technology.
13 percent think their CPA is ahead of the curve.
Communication

93 percent currently engaging a CPA communicate with their accountant by email.
19 percent would prefer communicating, at least in part, via text messaging.
4 percent of respondents currently using a CPA communicate with their accountant by video chat, but 14 percent would like to.
17 percent of those using a CPA share documents with their accountant through an online portal, but 28 percent would like to.
Other Data

54 percent used a CPA since the founding of their business.
47 percent of those using a CPA have switched professionals during the life of their business.
Opportunities for Firms and Vendors
According to Doug Sleeter, President of The Sleeter Group, the report shows several areas in which accountants, and the technology consultants who serve them, can provide better service and strengthen their client relationships.
"Even though most small businesses are generally happy with their accountant, the ever-evolving technology landscape creates complexities for them, and they want their most trusted financial advisor to assist them with these challenges," Sleeter said. For firms, this may mean expanding service offerings, improving technology knowledge, better collaboration and educating staff.
"All of these factors can help a firm differentiate itself from competitors," continues Sleeter. "Increasing the proactive consultative approach to business service and technology information is one of the most important factors in improving their reputations and the strength of their relationships."
Sleeter also said this snapshot of what businesses expect from their accountant also offers opportunities for technology vendors who serve these professionals. His suggestions:

Make your technology "play well with others," so accountants and clients can connect with other applications.
Provide education and tools to help accountants better understand and recommend your product to their clients.
Engage CPAs as partners who provide the "last mile" of customer service, but not as a sales force.
Remember that the client relationship is the lifeblood of a firm, and that these professionals have significant influence on the technologies their clients use.
The full What SMBs Want 2014 study is available at http://www.sleeter.com/products/what_smbs_want.html.
About The Sleeter Group, Inc.
At The Sleeter Group, we focus on accounting technologies, business processes, best practices, and consulting success. We help accounting professionals and their small business clients understand how they can fit the pieces together into complete, efficient business systems. We continually study the marketplace of solutions and comment on what we think is ready for implementation today, as well as what is coming in the future. Through our network of over 800 independent consultants and small- to medium-sized accounting firms, The Sleeter Group network serves nearly 300,000 small businesses each year.