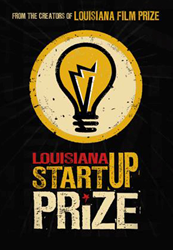 We are going to essentially teach these entrepreneurs how to win the grand prize and, potentially, get their startups funded.
Shreveport, LA (PRWEB) April 10, 2014
Gregory Kallenberg, founder of The Louisiana Film and Music Prizes, and John Grindley, of Shreveport-based coworking space Cohab, will be teaming up to announce the launch of The Louisiana Startup Prize at a press conference, 6 p.m., April 16 at Cohab in downtown Shreveport. The press conference will be followed by a kick-off party in the same location with Great Raft Brewery and Ki Mexico. The event is open to everyone. Cohab is located at 500 Clyde Fant Parkway in downtown Shreveport's Red River Entertainment District.
The Louisiana Startup Prize (http://www.LaStartupPrize.com) will combine entrepreneurial education with the intensity of a competition. The Startup Prize's main goal is to develop better entrepreneurs, connect them with investors and help create an entrepreneurial culture in northwest Louisiana. While there will be smaller cash prizes at the qualifying events, the entrepreneurs will ultimately be competing for the Grand Prize of cash and services equaling $50,000.
"We've once again created something that is nationally unique," said Gregory Kallenberg. "We are going to essentially teach these entrepreneurs how to win the grand prize and, potentially, get their startups funded. If these entrepreneurs take the Startup Prize seriously and attend, learn and network, they will not only have the best chance to win, they will have the best chance to succeed in their endeavor."
The Startup Prize will host two Qualifying Events (June 6 and July 18, $50 per event, $75 for both) at Cohab. Each startup will be required to attend at least one weekend-long qualifier in Shreveport-Bossier to be eligible for the Grand Prize. During the Qualifiers, startup teams will connect with experts, educators, mentors, and coaches who will help them build great ideas into strong businesses.
The top concepts will be selected to present their startup ideas during the highly competitive, highly exclusive Startup Prize Weekend, Sept. 18-20. The finalists will present their concepts to the Startup Prize's "Board of Directors," who will choose a winner. The Board of Directors will also have the opportunity to invest in these final projects.
"Northern Louisiana is on the brink of an entrepreneurial revolution," said Kallenberg. "The Startup Prize, and its gathering of innovative business minds and eager investors will change our entrepreneurial landscape forever."
Contact Sabrina Adsit 318-213-6437 or visit http://www.LaStartupPrize.com to enter and learn more information about the Louisiana Startup Prize.