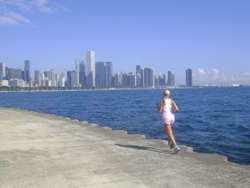 We never get tired of this route.
Chicago, IL (PRWEB) April 22, 2014
Certified professional tour guide, Marlin Keesler, an avid traveler and runner, has provided a new method of touring the city of Chicago for the physically active individual through the brand new company Chicago Running Tours and More. The company offers running tours which range from the 5K distance all the way to a full marathon.
As an accomplished marathoner and tour guide, Keesler decided to combine his hobby of running with his tourism career to create an experience that active runners will be able to enjoy. Running tours will allow active runners to maintain their active running schedule, get a breathe of fresh air, get photos taken next to historic landmarks, and absorb the rich culture of Chicago as endorphins rush through their body.
Chicago Running Tours and More has devised Chicago's 26.2 mile package, which consists of four different routes at varying distances. Participants also have the freedom to choose whether they would like to separate the marathon distance into several days. Once the participants achieve the length of the full marathon, they will receive a finisher shirt and finisher certificate.
To alleviate the "boring" element of the long run, Keesler incorporated themes designed to stimulate curiosity and wonder. During the run, one can expect to hear amazing stories, make discoveries about fascinating occurrences, and learn lessons that hold value in present times.
"Our goal is to deliver the most enriching and fulfilling tour experience possible for our friends in the running community," says Marlin.
The 26.2 package comprises of 'City in a Garden', a 5.62 mile scenic course that discloses little known facts about Grant Park, 'Tower to Tower', a 6 mile course that covers the history of Chicago's architecture, 'Run to Wrigley', a 6.48 mile course that includes topics from gangsters to playboys to baseball, 'Devil in the White City', a course of 8.1 miles that includes locations mentioned in Eric Larsen's bestselling book of the same name.
Chicago Running Tours and More also includes shorter distance routes, available on a daily basis. The equation became complete with the introduction of 5k Everyday, which includes courses at or just over the 5k, (3.1), mile distance. Similar to the marathon package, each 5k has a unique theme, which travels along areas tourists will enjoy. The 5K everyday packages include 'Grant Park 5k', 'Chicago River Navy Pier 5k', and 'Chicago Tragic Events'.
About Chicago Running Tours and More
Visitors to Chicago, not interested in the passiveness of bus and boat tours, now have an active alternative. They can join a group for a scheduled morning 5k tour or choose a longer private option. They can even check 'marathon' off their bucket list if so desired.
For more information, visit the website at http://www.chicagorunningtours.com/
Contact: Marlin Keesler, Owner
Phone: 630-702-9364
Email: marlin(at)chicagorunningtours(dot)com