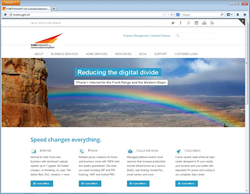 The website mirrors the FORETHOUGHT.net vision to bridge the digital divide caused by slow internet.
Denver, CO (PRWEB) April 11, 2014
FORETHOUGHT.net is excited to announce the launch of forethought.net, a website devoted to building awareness of its service and product offerings and to add more responsiveness to any request. The website mirrors the FORETHOUGHT.net vision to bridge the digital divide caused by slow internet. With the expanded footprint into the Western Slope and our latest service offering of gigabit fiber throughout our service area, it was crucial to develop a responsive and flexible solution to encourage sharing and the ability to respond to inquiries immediately.
This site has new sections and features including simple login links for customers and newly developed sections dedicated to the channel partner and property owner programs. These sections are dedicated areas for its key strategy partners to provide information on its partner programs and provide the ability to request more information. The property owner section focuses on lighting multi-tenant buildings with gigabit fiber. The login for customers has been simplified so its customers can go directly to the products needed immediately. The launch of the new website also optimized the site to better address the multiple requests for quotes and inquiries from both prospective customers and our current ones.
Jawaid Bazyar, president of FORETHOUGHT.net, said that our partners and clients will appreciate the ease of access to information and the ability to connect quickly and directly with the company.
###
About FORETHOUGHT.net
Since 1995, FORETHOUGHT.net is one of Colorado's largest independent locally owned internet, cloud and communications service provider with offices in Denver, Grand Junction and Durango, offering a portfolio of enterprise-level cloud hosting, colocation, Internet, voice and data solutions. The Denver Business Journal ranked FORETHOUGHT.net as a Top 15 Telecommunications Company and a Top 15 Internet Service Provider. ColoradoBIZ Magazine listed it as one of Colorado's Top 250 Private Companies. BBB.org accredited A+ member.