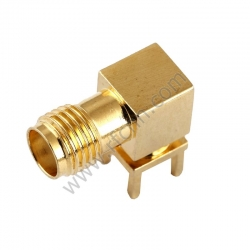 (PRWEB) April 10, 2014
Recently, LenoRF, an outstanding electrical accessory manufacturer, has launched a special offer on its brand new SMA Female for PCB connectors. According to the development manager for the company, all these promotional items are guaranteed to be quality made. Each of them can offer excellent performance.
The SMA Female for PCB connectors offered by LenoRF today typically comes with low prices. They are designed for the company's frequent callers who have supported it for decades. All its products are considered as the most durable items that are accessible to the public today. This is why the company strives to create more practical items and launch special offers so frequently.
Customers who are looking for the most advanced SMA products at affordable prices may find their ideal items at LenoRF's website. In fact, all the company's products are made with secure and durable materials.
"We are excited to unveil our new SMA Female for PCB connectors. We have confidence in our new products, because a lot of our items have won great reputation in the international market. Now, all the new connectors can be ordered online at our website. Worldwide distributors should grasp the great opportunity to order what they need," the development manager says.
About LenoRF
LenoRF is an online shop of high end electrical equipment. It is a China based company that aims to provide customers with high quality products at the lowest possible prices. Customers can try the company's products through sample orders with a long-term contract. Most customers come back soon after receiving their first deals.
More details about the company's useful products can be found at http://www.rfcnn.com/SMA-female-Right-angle-through-hole-for-PCB-RF-Connector-141.html.