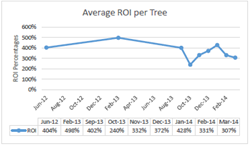 We are pleased to see that after what seems like a lifetime of hard work on our plantations, and in particular our agarwood plantations we are beginning to reap solid returns for tree owners.Barry Rawlinson, CEO
Singapore, Singapore (PRWEB) April 11, 2014
Barry Rawlinson, CEO of Asia Plantation Capital remarked "We are pleased to see that after what seems like a lifetime of hard work on our plantations, and in particular our agarwood plantations we are beginning to reap solid returns for tree owners. Our commercial agarwood harvesting programme started in 2012, and many more harvests are due over the coming years due to a combination of sustainable thinning, replanting and tree maturity."
This month also sees the commissioning of a new production line for Asia Plantation Capital, an investment in increased capacity to produce numerous value added forestry products such as agarwood tea, enhanced wood chips and speciality infused wood powder for supply to the global incense and pharmaceutical industries.
Production of agarwood chips and tea is presently utilizing 100% of agarwood tree stock owned by Asia Plantation Capital. It is of note that should any of these alternate market uses potentially offer higher returns on agarwood trees to oil production, Asia Plantation Capital will offer owners these revenue sources as an additional alternative to oud oil.
Asia Plantation Capital's agarwood plantations have to date provided tree owners with returns of SG$2.1 million. Barry Rawlinson continues "With more trees becoming due for harvest and our sustainable production capacity increasing, this figure is set to rise month on month. Our early tree owners have enjoyed returns of up to 498% (1). All of our plantation operations have performed consistently since 2009, facts we are very proud of at Asia Plantation Capital".
Further advancements in technology and heavy investment into research and development are key reasons for Asia Plantation Capital's success in a very complex market which it now leads.
--
(1) Average Return On Investment:
"Our tree owners have enjoyed returns of up to 498%." This data is available in the audited accounts of Asia Plantation Capital, it is based upon the original price paid for the trees by clients' vs their yield and actual payments made, as illustrated in the graph top right.