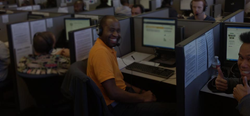 There's a lot of opportunity here, and we're ready to keep growing.
Los Angeles, CA (PRWEB) April 10, 2014
Visionstar is set to hire 100 inside sales and support agents by the end of summer due to continued company growth at the Los Angeles based company, which is known for its lively culture and unique sales process. The company will host open interview days twice a week between now and mid August.
"We just celebrated our five year anniversary in Los Angeles, and it's the perfect time for us to reaffirm our continued investment in Los Angeles," said Mark Anav, CEO at Visionstar. "There's tons of opportunity here, and we're ready to keep growing."
Visionstar has grown by 65% percent every year for the past two years and has quadrupled its employee base in the same time frame. The company has made significant investment in training modules and provides consistent on-going career enhancement opportunities for employees to develop valuable career skills.
Anav continues, "Our brands are experiencing exponential growth right now and in order for us to maintain the quality of service we've become known for, we have to remain consistent in our hiring efforts. We've had to build up both our call center and state-of-the-art training facility in order to accommodate the growth in live agents."
Open interview days are held twice a week, where job seekers can learn more about the company and the position and apply on the spot. More information about the open interviews can be found online at http://www.visionstarjobs.com.
While open interview days will focus only on inside sales and support positions, the company is also hiring web developers, web designers, analysts and marketing and business leaders.
About Visionstar:
Visionstar is a technology company that builds high-growth businesses through a combination of strategic marketing and sales. Visionstar optimizes the customer lifecycle for our brands, from initial interest in the marketplace to the end transaction. Success is driven by advanced internet analytics, proprietary technology and the company's greatest competitive advantage the people, who are smart but humble, driven and empowered to do what it takes to generate results. Founded in 2009 by Mark Anav and John Anav, Visionstar employs more than 165 people in Los Angeles.
Learn more at http://www.visionstar.com.