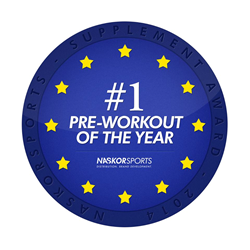 New York, N.Y. (PRWEB) April 10, 2014
Premier sports nutrition brand, Cellucor, took home "Pre-Workout of the Year" at the 2014 NASKORSPORTS Supplement Awards ceremony for its explosive pre-workout supplement, C4 Extreme. NASKORSPORTS presented the award on April 5, 2014, during the FIBO POWER Expo in Cologne, Germany. The prestigious award marks Cellucor's second consecutive win in the pre-workout category and is deemed an industry honor, as NASKORSPORTS is one of the largest international distributors of supplements.
"It has been a pleasure working with NASKORSPORTS over the past two years. They have experienced tremendous growth with their progressive approach and impeccable service. NASKOR is truly a force to be reckoned with," stated Sabba Naserian, VP, Global Development.
"NASKOR has an impressive portfolio of brands, and recognizes key players in each major category every year at FIBO. It is truly humbling to share the stage with legendary brands that have dominated this industry for years," continued Naserian.
The NASKORSPORTS Supplement Awards are an industry highlight, and are especially significant to Cellucor, as the American brand beat out numerous domestic and import supplement giants.
"The pre-workout category continues to be highly competitive in international markets with many strong legendary brands and regular exciting additions to the set. We are among great company in the segment so we are truly honored to receive this award," commented Naserian.
About C4 Extreme:
Fans across the world know C4 Extreme as an "explosive" pre-workout supplement. Available in a large assortment of creative flavors like Icy Blue Razz and Strawberry Margarita, C4 Extreme has garnered a following of fans who expect a quality formula that is equally enjoyable. C4 Extreme has won numerous awards, including "Pre-Workout of the Year" from online fitness and supplement hub, bodybuilding.com, as well as "Best Product Innovation" from GNC.
About Cellucor:
Cellucor is an award-winning, safe and effective supplement brand known for its premier weight loss and sports nutrition product offerings. Cellucor products can be found at GNC, Bodybuilding.com, Vitamin Shoppe and select retailers internationally. Visit Cellucor.com or connect with the company on Facebook or Twitter.