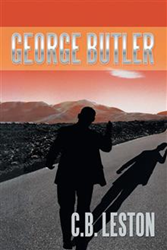 I wanted to explore what might happen if everything were to fall apart; for people to think about how they would handle it.
Birmingham, England (PRWEB) April 10, 2014
According to Business Insider, the average household carries $6,500 of debt – a burden that could turn disastrous.
Told through the lens of economic theory, adventure novel "George Butler" serves as a chilling cautionary tale that warns against our acceptance and complacency under the shadow caused by mountains of debt that have accumulated around the world economy.
"Economic systems have collapsed before," author C.B. Leston said. "It just happens. We are living in a time where we can barely keep the financial structures and economic foundations intact. It may be just a matter of time."
In "George Butler," a man foresees an apocalyptic collapse from turbulent economic conditions and flees with his friends to the countryside where they are blindsided by mysterious forces and bandits – blocking their path to safety. While under siege on the road, George's Leadership and quick wit hold the key to his friend's survival.
Leston's book is a thrilling adventure novel told through the perspective of the financial crisis that persists throughout the world. Blending political issues with a dramatic narrative, Leston draws from books such as Cormac McCarthy's "The Road" and George Orwell's "Animal Farm."
"I wanted to set, in imaginary terms, the perils of complacency about national debt," Leston said.
"We talk about it every day. I wanted to explore what might happen if everything were to fall apart; for people to think about how they would handle it."
"George Butler"
By C.B. Leston
ISBN: 978-1-4931-0813-8
Available in softcover, hardcover, e-book
Available on Amazon, Barnes & Noble and XlibrisUK
# # #
For review copies or interview requests, contact:
Matthew VanScoik | mvanscoik(at)bohlsengroup(dot)com | 317.602.7137
(When requesting a review copy, please provide street address)