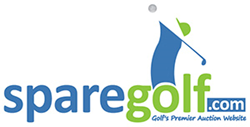 Orlando, Florida (PRWEB) April 15, 2014
SpareGolf.com - Golf's Premier Auction Website – has experienced significant and incremental growth through the first quarter of 2014. After launching the golf auction website at the beginning of the year, the Spare Golf website has steadily been gaining industry attention as golfers come to realize the valuable features and benefits it has to offer.
During the month of March, the Spare Golf website experienced a significant increase in website traffic, demonstrating it's continued growth in popularity within the golf community. Reaching milestone numbers which included 10,000 monthly website visits and 50,000 monthly page views, Spare Golf is looking forward to raising the bar even higher as summer approaches. "It's exciting to see Spare Golf gaining traction" said Jon Hernan, founder of Spare Golf. "We put a lot of time and effort into the development of Spare Golf and it's great to see the website numbers climbing to these levels. We're seeing new golf items being listed everyday. I'm looking forward to continuing to improve our platform and on building our network. "
With a goal of redefining the online golf shopping experience, Spare Golf offers a marketplace for golfers to buy and sell just about anything golf related in an online auction format. This includes golf equipment, apparel, accessories, collectibles, books, art, movies, lessons, golf travel, and much more.
Sparegolf.com provides a great opportunity for both buyers and sellers. With the ability to post new auction items for minimal fees, Spare Golf is the perfect vehicle for sellers to maximize profits. For buyers, the auction format can easily translates into huge cost savings of up to 95% off retail pricing.
For more information, visit sparegolf.com today to set up a free account and start listing and browsing.
About Spare Golf 
SpareGolf.com is golf's premier auction website where golfers can buy, sell, or just browse for golf equipment, golf apparel, golf club repair, golf balls, golf vacations and just about anything golf. This unique website offers low fees to maximize profits for the seller which also keeps prices lower for the buyer. SpareGolf.com intends to grow with each user and welcomes any feedback, comments or suggestions.