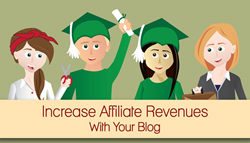 Coupon bloggers have the opportunity increase affiliate revenues and drive new users back to their blog.
Bloomfield Hills, MI (PRWEB) April 14, 2014
FansRave® today announced the release of an infographic guide that helps coupon affiliate marketers increase referral traffic dramatically, enhance revenues from affiliate links, and save popular deals in one convenient location.
FansRave® is an online coupon organizer that makes it easy to share deals with friends, family and other couponers so that no one misses a deal. With a FansRave® profile, bloggers can build more followers for their website or blog and achieve even greater exposure.
This infographic walks through the benefits of creating a FansRave® profile, and the value of sharing coupons with readers through this channel.
"By creating a FansRave® profile, bloggers have the opportunity to save all of their coupons in one convenient location, and in return they will drive new users back to their blog," said Dave Gonynor CEO of FansRave®. "More traffic means more visibility, and therefore more people who will potentially buy the products you promote."
FansRave® also allows users to populate their profiles with geo-stamped deals targeting local users in nearby locations.
FansRave® is free for consumers to use and supports affiliate links for couponers and coupon bloggers. It currently has hundreds of available deals at large national and regional retail chains.
FansRave® includes helpful How To videos and FAQs in Help and Feedback. Women that know how to use Pinterest will find it very easy to learn how to use FansRave®.
Visit https://fansrave.com to browse for current national retail deals and create a FansRave® account.
ABOUT FansRave®
FansRave® has thousands of visitors every month looking to save money. FansRave® makes it easy for shoppers to save, organize and share deals from their favorite retail and restaurant locations.