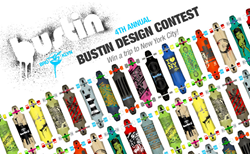 Brooklyn, NY (PRWEB) April 11, 2014
Brooklyn's Bustin Boards has launched their annual Design Contest and is taking entries for freshest combinations created in their Build-A-Board program. Known for their interactive board customization program, Bustin presents this contest each year to show off new options on the site and seek out the most creative perspectives of their followers. The design contest has been one of the most popular year after year as the company's boards and customization options have evolved. This year they've added all new graphics and color palette to the design program, plus have made available for customization the new ThermoGlass and ThermoCarbon boards. To top it off, they are giving away an all expense paid trip to NYC on Labor Day weekend to the winner.
Entering is simple: anyone can design a board using the interactive Build-A-Board program at http://www.BustinBoards.com/custom. The user will choose the graphic, color scheme, trucks and wheels that they think make up the best looking setup on the and share it with the world to see if they agree. All of the company's followers and staff will be involved in liking the designs, so there is no golden rule to follow in picking a graphic, color scheme or setup. The user should just create a board that they would want to ride and hope that others like it too!
How Exactly To Enter
1. Design a board at http://www.bustinboards.com/custom
2. Take a screenshot and save on your computer.
3. Upload the image, enter your email and give your board a name at http://www.bustinboards.com/designcontest
4. Submit it and tell friends to vote for your design!
Get all the details about at http://www.bustinboards.com/designcontest