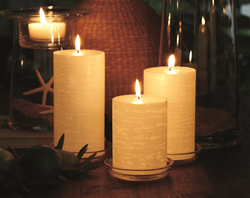 Turn off the lights and light up your candles? We've been helping people do that for more than 40 years! said Rob Goergen, Jr., President of PartyLite Worldwide.
Plymouth, MA (PRWEB) April 11, 2014
Earth Hour raised the world's consciousness of our planet. It also raised an extra $13,000 for the World Wildlife Fund, thanks to PartyLite, the world's largest candle party company.
Earth Hour took place at 8:30 p.m. on Saturday night, March 29, 2014 -- wherever you happened to be in the world. The idea was simple. Turn off your lights for one hour and "use your power" to express your commitment to the planet.
"Turn off the lights and light up your candles? We've been helping people do that for more than 40 years!" said Rob Goergen, Jr., President of PartyLite Worldwide. "So as the 2014 Earth Hour was approaching, we wanted to do something really special."
"In North America, we focused on one of our most popular candles for four days surrounding Earth Hour," said Michael Norris, President of PartyLite Americas, "and we pledged to donate one dollar to the World Wildlife Fund for each of those particular candles sold during those days."
Although PartyLite sells dozens of different kinds of candles, as well as candle accessories, flameless fragrance, wax warmers and other home décor products in 21 countries, the Earth Hour donation was limited to PartyLite candles sold in the United States, Canada and Europe.
"Europeans are generally quite sensitive to issues like energy conservation and agricultural sustainability," said Martin Koehler, President of PartyLite Europe. "So we focused on the PartyLite Brighter World™ candles during the two weeks leading up to and after Earth Hour.
"These beautiful, natural soy blend candles come in three exotic fragrances," he said. "Thanks to our alliance with the world's largest fragrance house, Givaudan, we already support sustainable agricultural practices and conservation techniques in the small, faraway villages where the botanicals are sourced that produce the rare essential fragrance oils for Brighter World candles. These candles were an excellent fit with the Earth Hour celebration."
In the United States and Canada, the featured candles were GloLite by PartyLite™ Pillar and Jar Candles, one of the company's best-loved candle types.
"GloLite by PartyLite candles are created using our own proprietary technology," said Goergen. "You light the wick and the entire candle just glows from top to bottom. They are absolutely amazing in a darkened room – just mesmerizing! We knew they'd be a great choice for people observing Earth Hour – the perfect candle when you're gathered with friends or family, turning off the lights, lighting up the candles and spending one very special hour celebrating the beauty of this wonderful planet that we all share."
For more information, visit the PartyLite Facebook page or go to http://www.partylite.com.
About PartyLite
PartyLite is the world's #1 party plan company selling candles, candle holders, flameless fragrance and wax warmers as well as holiday and home décor in 21 countries through nearly 52,000 independent PartyLite business entrepreneurs. PartyLite ranks #31 in the Direct Selling News "Global 100 top revenue-generating direct selling companies." Based in Plymouth, Mass., PartyLite is a member of the Direct Selling Association and the Better Business Bureau. In 2014, PartyLite celebrates 41 years as the global leader in its category and 24 years as a member of the distinguished Blyth family of companies (NYSE:BTH). For more information, please visit http://www.partylite.com.