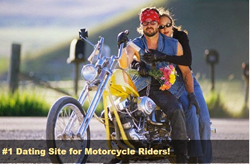 Los Angeles, California (PRWEB) April 12, 2014
Ever wonder why people become motorcycle enthusiasts? What's the attraction of riding solo most of the time? Bikerkiss.com recently surveyed their members about the reasons they become motorcycle enthusiasts. Using the forum on the website, members shared their stories and presented some great opinions.
"I just love the feeling every time I get on a bike I feel like that 16 year old again. I think I was born a biker."
"Riding a motorcycle has a number of environmental and economic benefits."
"It's about going out with your buddies and riding. In other words, it is about having fun."
"It's fun and less stressful on my feet and ankles."
For some surveyed they liked bike riding because it saved money on insurance, tariffs, petrol and other expenses. Bike payments are cheaper. It was also a stress reliever that allowed people to enjoy being outdoors with a sense of freedom, a sense of being able to fly.
For some it's addictive.
"It's just pure joy. After a few trips I'm addicted. There's nothing like the feeling of the wind in your face and the confidence it gives you."
One biker explained that he loved the feeling of becoming one with the bike, where every move you do together happens as you think it, without any conscious effort. He loved being connected with his bike.
"When all thought is replaced by body memory and instinct, it's as if YOU are flying down the street, just as easy as if you were walking."
All the whys of biking are summed up like this, "To fly, to get out of traffic, to save gas, to have fun, to play, to go fast, to be faster, to be solo, to race, to learn, to get away, to focus, to satisfy the need, to get off the light faster, to be inside the sunset, to outrun, to see 360, to smell the air, to stay sharp, to take your mind off everything else, to be alone, to escape, to practice, to keep up with the fast boys, to ride better, to pass you, to have fun, to hang out, to live, to listen to music, to feel everything is OK..."
The reasons go on and on. Visit http://www.bikerkiss.com for more.
About BikerKiss:
BikerKiss.com is world's first, largest and most effective biker dating site for biker singles who are looking to meet other biker friends in the world!
This is a best place for bikers and friends to get to know each other, establish relationship and talk about their interests, or to help each other.