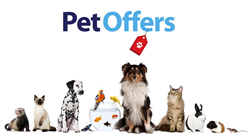 The pet industry is absolutely huge, but there is a distinct lack of pet specific networks out there, and certainly none in the UK
(PRWEB) April 14, 2014
An exciting new opportunity for pet owners has arrived with the launch of PetOffers.com, an exclusive pet affiliate network, which enables pet owners to earn money from home by promoting their pet's favourite toys, treats, food and more to other pet owners online.
PetOffers has been developed by the people behind several other hugely successful affiliate networks and is primarily targeted towards those with no prior affiliate marketing experience; every day pet owners who will thrive on the opportunity to be able to share their passion for their pets with other pet lovers.
PetOffers Network Manager Rachel Romero says:
"We've been running successful affiliate networks for years, but being pet owners and animal lovers ourselves, we had always been interested in the idea of creating a pet specific network which is close to our hearts. The pet industry is absolutely huge, but there is a distinct lack of pet specific networks out there, and certainly none in the UK. We wanted to change this. We want pet owners to be able to share the love and passion that they have for their pets with other owners, and to earn something doing so. We know that there are many affiliates in other niches who unfortunately have a lack of genuine interest in the products that they promote and who are doing it purely for the money. The best affiliate marketers are those who do have a real and genuine interest in what they do. Pet owners naturally have all the ongoing passion, love, and interest needed to thrive on the opportunity to help others choose the best pet products via affiliate marketing. This is why we created PetOffers."
Major multi-niche networks such as Affiliate Window are currently the only way for affiliates to promote pet related products and brands. PetOffers is the UK's first dedicated pet affiliate network, and aims to become the world's biggest by providing all the best pet merchants in one place, with competitive commissions, guaranteed bi-weekly payments, affiliate training, personal coaches and more, opening the door to anyone worldwide with a love of pets, regardless of whether they have heard of affiliate marketing or not.
PetOffers launches with four huge multi-product pet stores on board; Zooplus, Monster Pet Supplies, Pet Supermarket and PetsPyjamas, with more to be added on a regular basis.
With some of the UK's biggest online pet stores as well as Europe's leading pet store on board already, PetOffers looks set to become a huge success.