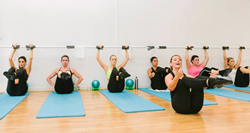 We've compiled 10 commonly asked questions about Pilates right here.
(PRWEB) April 17, 2014
Pilates is a quickly growing exercise programme which has managed to transform the lives of countless people across the world, says Gollan.
"Since it was first developed by Joseph Pilates in the early 1900s the exercise programme has helped millions of individuals interesting in improving their health, increasing flexibility, and developing whole body awareness," she points out in her article Pilates: 10 common questions and answers for your health.
"If you are interested in getting started, you may be curious about what you can expect from a Pilates class, and what the time frame will be for when you can start to see results. To help you to familiarize yourself with the exercises, here at Inner Strength Pilates we have listed ten commonly asked questions then answered them in the most straight forward way we could think of."
1 Pilates is an exercise regimen, developed more than 100 years ago, which focuses on developing total-body fitness through balance, core strength, flexibility, and body awareness. It's a combination of mat work exercises and moves using studio equipment.
2 At Inner Strength Pilates comfort is a big focus. Friendly and professional trainers will work alongside individuals in small groups or providing one to one attention. A host of different classes include high-energy Barre and the challenging fat-burning Adelaide Reformer routine. There are also classes utilising solely mat exercises, and those specialising in pre-and post-maternity exercises.
3 Amazingly, in just a few weeks the results of the exercise will be obvious. Joseph Pilates himself says: "After 10 sessions you will feel better, after 20 sessions you will look better and after 30 sessions you will have a new body."
4 Pilates is an ideal cross-training exercise. Because of this it's perfectly possible to combine it with other forms of exercise and training.
5 Overall fitness, improved flexibility, better core strength, well-developed muscles, a toned body, improved circulation, increased bone density and cardiovascular improvements are just some of the benefits of Pilates. The exercise also lowers the probability of injury, heart disease, diabetes, and arthritis. It is especially helpful for pregnant and post-natal women.
"Not only is Pilates effective, but it's also fun," said Gollan, a former professional dancer. "Many individuals who come to our classes regard Pilates as a reward and something to look forward rather than a chore.
"The support and help that your instructor provides will undoubtedly help you to see real results, while being part of a supportive group means there's companionship there too."
6 Finding a studio with well-trained, qualified instructors is essential to getting the most from a Pilates session. The smaller the group sizes, the more individualised attention is guaranteed.
7 A Pilates studio should care enough to take the time to assess individual on a one-to-one basis so that they can understand their fitness and health goals. It also provides an opportunity for the client to address any health concerns and to ask questions.
8 Since Pilates helps to both tone and create lean muscle mass there is no doubt calorie burning potential there too.
9 One of the main goals of Pilates is to focus on flexibility so it is perfect for individuals in this respect. Increased flexibility can lower the chance of injury, improve posture, and help create a long and lean physique.
10 Increased flexibility, strength and improved health are just some of the obvious benefits from Pilates. It is, in fact, the perfect whole-body exercise to make every-day activities easier.
To find out more about the benefits of Pilates or Barre see the Inner Strength Pilates website. Book a class from referring to the Pilates exercise schedule or look for updates on the company's Facebook page.