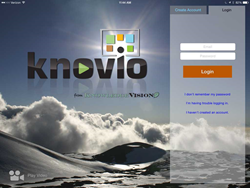 Using an iPad app such as Knovio Mobile, to capture video and easily add it to a presentation, represents the next step forward in the Tablet Era.
Lincoln, Massachusetts (PRWEB) April 14, 2014
KnowledgeVision, the leader in online presentation technologies and tools, today announces the immediate availability of its Knovio Mobile iPad app in Apple's App Store. Knovio Mobile brings the power of video or audio narration to make the online presentation experience richer and more engaging for users on-the-go.
KnowledgeVision's cloud-based services make it easy to create interactive video experiences by synchronizing video and audio streams with presentation slides, live web pages, social media feeds, and interactive surveys. Knovio Mobile can be used as a mobile content creation tool for e-learning, content marketing, sales enablement, corporate communications, and investor relations purposes.
"Tablet devices such as Apple's iPad have established their reputation as the ultimate content consumption platform, but the perception is that tablets cannot be used to capture or create content," said Jim Lundy, CEO and Lead Analyst at Aragon Research. "Using an iPad App such as Knovio Mobile, to capture video and easily add it to a presentation, represents the next step forward in the Tablet Era."
Knovio Mobile can create an online video presentation in three simple steps:
1. Upload PowerPoint presentation
2. Narrate with audio or video
3. Share privately or with social networks
"Apps like Knovio Mobile can help unlock, share, and preserve the wealth of knowledge that exists throughout the organization," said futurist Elliott Masie, who heads the MASIE Center think tank on organizational learning. "Putting easy-to-learn creative tools in the hands of knowledgeable professionals is a critical step for any learning organization."
"Powerpoint is the universal medium used by everyone to pitch ideas, explain concepts, teach courses and advocate for their causes," said Michael Kolowich, Founder and CEO of KnowledgeVision. "However, a presentation deck without a person to narrate it is almost guaranteed to fall flat. Knovio Mobile gives everyone who has an iPad the ability to easily record and tell the story behind their presentation and then share it with the world as a multimedia experience."
Key Knovio Mobile features include:

Create audio or video narration through iPad's built-in camera
Playback and re-record any slide or section from iPad or desktop
Enter speaker notes by typing or speaking using speech-to-text recognition
Optional countdown to time the length of the presentation
Fast upload. Viewable within seconds on any desktop or mobile device
One button sharing via email or social sites
Load PowerPoint presentations via email or cloud storage such as Dropbox and Google Drive
Supports all version of Microsoft PowerPoint
Knovio Mobile is available for free in Apple's app store now. More information including videos about Knovio Mobile capabilities can be found at http://www.KnovioMobile.com.
About KnowledgeVision
KnowledgeVision is reinventing the business presentation for an online, on-demand, video-enabled, mobile, anytime/anywhere world. A venture-capital backed company based near Boston, KnowledgeVision offers a Software-as-a-Service solution that makes it easy to create, share, and track online presentations.