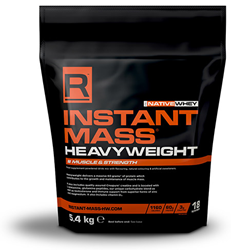 A formula designed to outperform in every area and will rewrite your expectations of what a weight gainer can deliver.
Brighton, UK (PRWEB UK) 23 April 2014
Instant Mass® Heavyweight – Reflex® Nutrition's best weight gainer for the hardgainer.
Reflex Nutrition's newest and best weight gainer designed specifically for hardgainers and all athletes wanting a very high quality source of protein and complex carbohydrates. A formula designed to outperform in every area and will rewrite expectations of what a weight gainer can deliver.
Heavyweight delivers in 5 key areas where other weight gainers simply do not;
Heavyweight High BV Quattro® Protein Complex Providing a Massive 60 Grams of Protein
Arguably the most sophisticated and best protein blend in a weight gainer that you won't find in any other product. Quattro® is unique to heavyweight, exclusively from Reflex® Nutrition. It consists of three different types of whey protein in conjunction with pure undenatured micellar casein. Four of the best!
What is Quattro® Protein Complex?
To trigger new muscle growth needed to train hard and consume the best high quality sources of protein. Quattro® protein complex is one of the best combinations of protein science has to offer - specific forms of whey protein and micellar casein. However, Reflex® Nutrition doesn't use just any type of whey proteins for Heavyweight, first it uses two different hydrolysed (pre-digested) whey proteins; one has a High DH (degree of hydrolysis meaning how much it's been pre-digested) which the human body can absorb almost instantly, the second has a Low DH providing the human body with a secondary hit of whey peptides. Third, it uses a preferentially selected whey protein concentrate in conjunction with unique native whey protein isolate that is chosen for its high levels of bioactive fractions and superior branched-chain amino acid (BCAA) content. Fourth, Reflex® Nutrition add pure ultra-filtered micellar casein that is digested over a longer period of time feeding your body with essential amino acids for up to 4 hours providing excellent anti catabolic activity.
Note: Does not contain soy protein like some brands, soy has a lower biological value compared to whey.
Heavyweight Carbiotics Carbohydrate Complex, with No Added Sugars
Many weight gainers today contain lots of empty calories from simple sugars like fructose and dextrose. Heavyweight is different. It's one of the best weight gainers containing a unique blend of the finest oats, maltodextrin and treaholse. It provides a serious source of fuel for your body that's free from corn syrup, fructose and simple sugars.
Heavyweight Muscle & Strength Stack
Gaining muscle mass is not easy, and few companies understand the importance of micro nutrients and the key role they play in stimulating massive gains like Reflex® Nutrition. Experts at Reflex® Nutrition are proud of trawling through research on a daily basis to find out what works. As a result Heavyweight contains a stack of the World's purest most proven Creapure® Creatine with added zinc, magnesium and vitamin D.
Heavyweight Immune Support
If you train hard you will be subjecting your body to significant demands, a time where it's advisable to provide it with additional support. Each serving of Heavyweight provides EU approved doses of vitamins and minerals that support a healthy immune system. These include vitamin C, vitamin D and copper.
Heavyweight Awesome Flavour, Mixability and ease of use.
Instant Mass® Heavyweight tastes amazing, it's a shake that mixes very easily in a shaker and tastes delicious. It comes in 5 mouth-watering flavours. Use this amazing weight gainer between meals and post workout.
Available in:
Chocolate Perfection
Strawberries & Cream
Vanilla Ice Cream
Chocolate Peanut Butter
Reflex® Nutrition is now giving away sample sachets.
Exclusive Instant Mass® Heavyweight 1 Litre Shaker
The team at Reflex® Nutrition are extremely proud of the formulation and believe the product will stand out from the rest of the competition. To celebrate the launch, a bespoke 1 litre shaker has been produced specifically for use with the product.