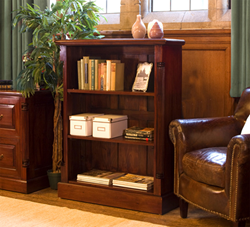 (PRWEB UK) 15 April 2014
Furniture in Fashion has made huge inroads in luxury market segment with the launch of classic mahogany furniture. The CEO of the company, MR Asad Shamin was elated at the launch and quoted, "The all new rich Mahogany furniture collection has been hand crafted from the highest grade solid Mahogany. Our mahogany is sustainable and sourced from well managed plantations to ensure first grade pieces to our esteemed clientele."
The products crafted in this range have been finished to exceptional standards. Special care has been taken to guarantee durability without compromising on the natural splendour of the wood. Use of a mid gloss lacquer has made this possible for the craftsmen.
The entire range of Classic Mahogany furniture has been integrated with exemplary designs giving it a contemporary edge to fit in any home. The range comprises of hidden computer tables, low open book cases, two-door CD and DVD storage cupboard, shoe storage cupboard, console table, coffee table, narrow alcove open bookcase, nest of coffee tables, and a lot more.
The innovative design of the furniture allows customers to disguise their desks and tables as a trendy piece of art. Some of these are exquisitely carved, decorated with brass handles, green Oscar inlays, etc.
The classic mahogany range has been christened as 'La Roque. It is designed to give an artistic touch to any room, save space, and enhance functionality of a given room. These pieces are offered at an affordable price.
Computer desks occupy a lot of space in a room. The mahogany range has been built in a fashion to occupy less space. It can also be hidden when in not use to appear as a beautiful piece and a centre of attraction. Similarly, the book cases, coffee tables, chests, consoles, and varied other pieces has been designed to add elegance to a given space without bothering the owner for space.
The 'La Rogue' range will help consumers decorate their homes with a classic durable range an affordable price without compromising on quality. Mahogany is a type of wood commercially available and widely revered for its natural beauty, durability, and rich reddish brown colour. Furniture in Fashion has decided to exploit the beauty of mahogany in their latest 'La Rouge' range. The functional range of furniture is a boon for those looking for a highly durable, stylish, and space saving piece at low cost.
Founded in the year 1998, Furniture in Fashion offers state of the art quality furniture and related services at highly affordable prices. The site is based at 60,000 square foot warehouse and a showroom in Farnworth near Bolton. Once known widely for importing furniture, the company has emerged as one of the largest furniture stores in the United Kingdom enjoying a strong online presence.