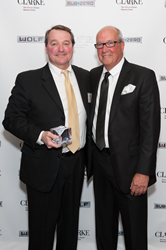 We always try to plan some wow factor into our Designer Appreciation Nights.
(PRWEB) April 15, 2014
Six stellar kitchen designs, three top specifiers and the world's greatest rock and roll band were the headliners at Clarke's 2014 Designer Appreciation Night, when more than 300 New England architects and designers recently gathered at New England's Official Sub-Zero and Wolf Showroom and Test Kitchen.
Six Clarke Kitchen Design Contest winners were celebrated at the event for their extraordinary designs:

"We received 88 entries, which is the largest competition we have had since we started the Clarke Kitchen Design Contest," said Clarke Business Development Manager Joe Tanguay, the master of ceremonies for the evening. "Our incredible panel of judges poured over the entries with great concentration and chose these six projects as the top designs created in 2013."
Judges for the Clarke Kitchen Design Contest were Vincent Capello of Putnam Kitchens in Cos Cob, CT, Lindy Weaver of Lindy Weaver Designs in Cos Cob, CT, Steve Baker of Baker Design Group in Boston, MA and David Andreozzi of Andreozzi Architects in Barrington, RI.
In addition to announcing the Clarke Kitchen Design Awards, kudos went to the top three specifiers of Clarke's products over the past year:

Prior to the awards ceremony, CEO Tom Clarke spoke to the standing-room-only Clarke Amphitheater audience about the changes that he's seen in the industry since his first Kitchen & Bath Industry Show (KBIS) in 1974. He showed a list of top brands from 40 years ago and said, "When I look at this list, so many of the brands are gone now. However, the brands that have survived, including Sub-Zero, are brands that were embraced by the design community. We look forward to continuing to work with you and thank you for constantly innovating with our products."
In a prophetic phrase, Clarke said, "The best way to predict the future is to invent it." He then went on to show a map and architectural renderings of the company's planned Boston showroom, which was hinted at in last year's Designer Appreciation Night. "Our third showroom address will be in the Seaport District, right across from the Boston Design Center, in 2015."
General Manager Sean Clarke told the audience, "We are bringing on new products, hundreds of them, in the next two years. In addition to marketing all of the new Sub-Zero and Wolf products, and Best's new IQ blower system, Clarke has partnered with Waterstone, an innovative faucet company out of California. They design entire suites of kitchen faucets, filtration faucets, bar faucets, side sprays, soap dispensers, air gaps, pot fillers and the list goes on. These suites allow you to design all plumbing and accessories with one style, even down to matching cabinet hardware. And what's even more exciting, all Waterstone products are manufactured in the U.S."
Prior to the awards and speeches, as the audience took their seats, the Clarke Amphitheater went dark and on a video screen overhead, Ed Sullivan welcomed everyone to his show and then introduced those "lads from London." As the vintage applause from The Ed Sullivan Show was heard over speakers, a curtain dropped and spotlight illuminated a live replica of The Beatles as they played "She Loves You." The Clarke audience had much the same reaction that Sullivan's did 50 years ago on his show with cheers and applause.
"We always try to plan some 'wow' factor into our Designer Appreciation Night events," said Tanguay. "This year we chose to transport our guests back to the 1960s and they played along with the theme, arriving in tie-dye, bell bottoms, love beads, daisy headbands and jeans. Every year it is even more fun to celebrate these creative people and their love of design and fashion. We look forward to coming up with Clarke's 8th Annual Designer Appreciation Night in 2015. We start brainstorming the day after the event and look forward to it all year long."
For more information and photos of the event, visit Clarke's Facebook page. For more information on Clarke designer programs, visit clarkeliving.com or call Joe Tanguay at 800-842-5275.
About Clarke
Clarke is New England's Official Sub-Zero & Wolf Showroom and Test Kitchen, with locations in Milford, MA and South Norwalk, CT. Clarke's hallmark is an exclusive Appliance Test Drive, where homeowners can actually cook on Wolf appliances or test ASKO laundry pairs in order to best select the models that will enhance their lives. Visitors can see more models of Sub-Zero and Wolf at Clarke than anywhere else in New England. In addition to marketing Sub-Zero, Wolf and ASKO, Clarke showcases a wide variety of products from other quality brands including Best, Scottsman, Dawn sinks and Waterstone Faucets. Clarke sells its brands through a network of authorized retail dealers in all six New England states. Clarke also offers Clarke Customer Care, a dedicated Sub-Zero and Wolf repair service that has earned them top customer satisfaction ratings in the U.S. For more information, visit clarkeliving.com.