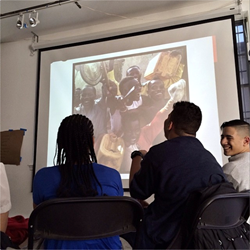 "Creating Everyday Bronx bridges cultural divides and empowers students to start a meaningful conversation about their own communities." - Austin Merrill, co-founder of Everyday Africa
New York, NY (PRWEB) April 15, 2014
Mainstream news reporting about African countries tends to be on the dismal side, focusing on civil wars, famine, poor medical care or extreme poverty. As a result, people who don't visit the continent are rarely exposed to the everyday aspects of life in Africa, and form deep-seated misperceptions about the continent based on unbalanced media reporting.
Everyday Africa—a collection of cellphone photographs depicting everyday life from across the continent—is fighting these stereotypes, and is now collaborating with The LAMP and the Bronx Documentary Center to confront similar misperceptions among teens in the Bronx. These nonprofit organizations are using images from the Everyday Africa image archive to teach students at Immaculate Conception School to critically respond to media, creating a springboard for the creation of the students' own documentary photography project: Everyday Bronx. As 98% of the students at Immaculate Conception are either Hispanic or Black, they can identify with being subjected to misperceptions and stereotypes that are often enforced by mainstream media.
"The Bronx Documentary Center is excited to be part of this important project," said Mike Kamber, Founder of Bronx Documentary Center. "Students in our neighborhood face many challenges, not the least of which is being often shown negative images of their community in the press. Everyday Bronx will sensitize them to a range of media issues and give them much-needed visual training as well."
"Everyday Africa is thrilled to be reaching students in the Bronx by collaborating with The LAMP and the BDC," said Austin Merrill, a co-founder of Everyday Africa. "Creating Everyday Bronx bridges cultural divides and empowers students to start a meaningful conversation about their own communities. This educational outreach is exactly this kind of extension of our work that we hope to spread throughout New York City and elsewhere."
"The LAMP is honored to be a part of such a meaningful project," said Alan Berry, Education Manager for The LAMP. "This program creates a community where students can explore stereotypes and representations, and participate in the mediated dialogue begun by Everyday Africa by sharing their unique perspectives through photographic images."
The program, which meets after school one day per week for eight weeks, is supported by an Audience Engagement Grant from the Open Society Foundations and by a grant from the Pulitzer Center. Everyday Bronx will culminate in an exhibit of student projects at the Bronx Documentary Center on May 22.
About Bronx Documentary Center: Founded in 2011, the Bronx Documentary Center (BDC) is a non-profit gallery and educational space devoted to documentary projects from around the globe. Located on the ground floor of a recently revitalized building in the South Bronx, the BDC aims to create an engaging environment for local and international photojournalists, artists, filmmakers, critics and educators committed to innovative methods of non-fiction storytelling. See more at http://bronxdoc.org/.
About Everyday Africa:
Everyday Africa, a collection of images shot on mobile phones across the continent, is an attempt to re-direct focus toward a more accurate understanding of what the majority of Africans experience on a day-to-day basis: normal life. As journalists who have lived and worked on the continent for years at a time, we find the extreme not nearly as prevalent as the familiar, the everyday. Founded in 2012. For more information: http://everydayafricaproject.com.
About The LAMP:
Founded in 2007, The LAMP envisions a world of critical and active participants, and seeks to educate and equip people to shape the media landscape through hands-on learning. By transporting equipment and educators directly to schools, library branches and community centers, The LAMP is able to reach communities which otherwise have little or no access to media and technology education. For more information: http://www.thelampnyc.org.