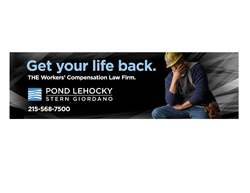 The campaign that D4 created for us is a testament to the agency's understanding of our pledge to help workers put their lives back together again after suffering work-related injuries.
Philadelphia, PA (PRWEB) April 14, 2014
D4, a full-service traditional and digital advertising agency and agency-of-record for Pond Lehocky Stern Giordano, created a new highly emotive campaign that included TV, radio, outdoor, digital tactics, and new logo and website for the firm. The campaign, entitled "Shattered," continues to evolve the "Unmistakable" positioning the agency had launched in 2013 that helped catapult Pond Lehocky to become the leading workers' compensation law firm in the region.
Kurt Shore, President and Chief Creative Officer remarked, "Last year, we launched the brand with a category killing campaign which positioned the firm way beyond their peers in terms of their professionalism, and the superior results they get for their clients, by producing a highly stylized image campaign. This year, we focused the creative on Pond Lehocky's compassion and unrivalled dedication to their clients by creating a highly emotive story line combining provocative 3D shattering effects with equally evocative music. In thirty seconds, we show how a work-related injury can shatter lives, and how Pond Lehocky can help put workers' lives back together again."
Carl Teitelman, Managing Director/CSO added, "D4 was challenged to create a strategy that cast a very large shadow, and delivered even larger results. This is brand sensitive direct response and everything is measured in the context of ROI – nothing else really cuts it. The story is quite remarkable, and a terrific partnership with marketing director Gina Terzolino is instrumental in making this campaign so successful."
D4 also created a new logo and most importantly, a new responsive website- pondlehocky.com, to reflect the new brand. Justin Stauffer, VP of Digital at D4, commented, "we needed to create a pondlehocky.com site that was as special and unique to the category as the rest of the advertising we had developed for the firm. Not only is it a clean, stylized experience, but it also offers our client a greater means to collect leads across any platform or device. And that's rather important for their business."
Sam Pond, CEO of Pond Lehocky Stern Giordano added, "The campaign that D4 created for us is a testament to the agency's understanding of our pledge to help workers put their lives back together again after suffering work-related injuries. The compassion reflected in the campaign is authentic, and allows us to stand tall and apart from our competitors."
The TV spot was shot in D4's film studio and directed by Scott Whitham. D4's in-house motion graphics, editing, and audio facilities handled all post-production work. Music was composed by Kurt Shore and arranged by Ralph Deal and engineered by Chris Zurzolo. Sara Stuard, VP of Client Services at D4, managed the entire campaign for the agency; Bob Seabert was Creative Director, and VP of Design, Wicky Lee art directed.
About D4
D4 is one of the region's most successful creative and branding advertising agencies and is located in the Manayunk section of Philadelphia. The agency is a certified Woman/Minority Business Enterprise (WMBE). Unique to the region, D4 Creative combines a full compliment of strategic, creative, and design professionals surrounded by robust in-house video editing, motion graphics, post-production, and audio suites. D4's clients include Penn Maid, ARI Fleet, Weinstein Bath and Kitchen, McKesson, Pond Lehocky Stern Giordano, Espoma, Frontier Communications, Cottman Transmission, Soza Weight Loss, and Veria Living. For more information, visit our website at http://www.d4agency.com.