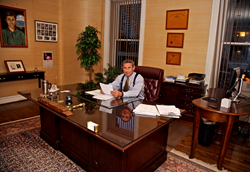 (PRWEB) April 16, 2014
Pozzuolo Rodden P.C., Philadelphia Estate Planning Lawyers, announces the release of "The Red Flags That Signal Your Estate Plan is Out of Date." If you would like to read more, please read the full article and other estate planning topics at http://www.pozzuolo.com
The Red Flags that Signal Your Estate Plan is Out of Date
Many individuals draft their Last Will in their 30's or 40's and think they are set for life. At this age, their children are all minors, their only assets are a small or fledgling business, their net estate is the down payment on their home and term life insurance, they are still with their first spouse, and they are still in good health. However, over time, there are new people in their lives, some friends and relatives slip away, children become adults, their business outgrow their expectations, and simply their preferences change. If one of the following ten red flags apply to you, it is likely your situation has changed, and your estate plan should be reviewed:
1. New Child or Only Grandchild – If a person has a new child or grandchild they may want to re-evaluate their estate plan. Their prior Will may not mention children, may specifically name only one or two of their children, or may not address the special needs of a new child.
2. Kids are Adults Now – Little Johnny is not the same innocent wide eyed kid the last time their Will was drafted. Johnny may be a successful business tycoon and not need a large inheritance, Johnny could have a lower paying societal respected job as a police officer, fireman, teacher,… and they would like to reward him, Johnny may be married with kids, or now that Johnny is an adult, they feel like he should fend for himself to build character. In addition, Johnny may be their new option as their Executor, Trustee, or Health Care Agent ("Fiduciary") solely or jointly with their close friend, spouse or trust company.
3. A Parent Disapproves of Their Kid's Lifestyle/Decisions – As their child grew up, he may have grown a drug dependency, has a criminal history, or simply have a belief/lifestyle they do not agree with. Their child could have moved half way around the world and they rarely, if ever, see/talk with him. They may want to limit their bequests to such child or provide such bequests in trust to provide him/her with the basic necessities, and not enable him to continue his bad habits.
Contact our Philadelphia Estate Planning Law Firm with your questions, comments or concerns.
Pozzuolo Rodden, P.C. provides specialized cost-effective legal services to privately held business owners and high-net-worth clients in Pennsylvania and New Jersey in excess of 35 years.
Practice Areas: Business/Corporate Litigation | Business/Corporate Law | Real Estate | Employment Law | Estate Planning | Tax & Pension Law
Pozzuolo Rodden, P.C.
Counselors at Law
2033 Walnut Street
Philadelphia, PA 19103
215-977-8200
http://www.pozzuolo.com