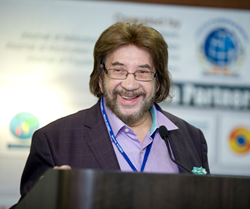 Take the first step in faith. You don't have to see the whole staircase, just take the first step...!!
Los Angles, CA (PRWEB) April 15, 2014
3rd International Conference and Exhibition on Addiction Research & Therapy will delight the huge gathering with a cordial theme of "Integrating Innovations & Advanced Technologies in Prevention and Treatment of Reward Deficiency Syndrome" during the opening ceremony embracing adepts like Dr. Kenneth Blum, Lifetime Achievement Award Winner & widely recognized as Father of Psychiatric Genetics from University of Florida, USA; Dr. Jason Connor, University of Queensland, Australia; Dr. Bryan Yamamoto, University of Toledo, USA; Marcelo Febo, University of Florida, USA; Thomas Simpatico, University of Vermont, USA; Dr. Rajendra Badgaiyan from University of Buffalo, USA, and some more as the eminent Keynote speakers for the conference event.
A National Symposium on Addiction Treatment Alternative will be hosted by Dr. Prapapun Chucharoen (Chairperson for symposium) from Mahidol University, Thailand and other eminent of the field from various countries at this Addiction Therapy-2014 gathering.
As First and Second Addiction Research & Therapy International Conferences hosted by OMICS Publishing Group have enumerated various recent advancements in Addiction field, this time Addiction Therapy-2014 is aiming to explore and enhance the young talent by hosting International Poster Competition Award and Young Scientist Award during the event. The Organizing Committee Chairmen, Dr. Kenneth Blum & Dr. Rajendra our Keynote Guests will be felicitating them personally for their remarkable work.
OMICS Group International publishes more than 350 peer-reviewed journals and has organized more than 100 International conferences. The Group has taken various new initiatives like OMICS Conferences, OMICS Group Mobile App, OMICS Group eBooks, OMICS Group French Edition, Young Scientist Award and Scholars Central. The Group is hosting more than 100 scientific events every year across the globe has raised OMICS Group to the pinnacle.
Organizations interested to learn more about the OMICS Group Scientific Conferences are free to connect us for future collaboration and association with the reputed international events organized each year in almost all the field of scientific study.
Anyone interested in attending the conference or for more information related to the subject of this release can contact:
Nick Johnson
Medical Conferences
addictiontherapy2014(at)omicsonline(dot)us
5716 Corsa Ave, Suite110
Westlake, Los Angeles
CA-91362-7354, USA
http://addictiontherapy2014.conferenceseries.net/