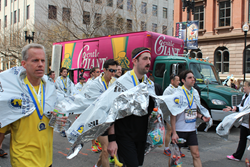 Gentle Giant Moving Company could not be more proud to reclaim our regular spot at the finish line on race day so we can be the first to congratulate the runners after their amazing 26.2 mile triumph!
Boston, MA (PRWEB) April 17, 2014
Gentle Giant Moving Company, an award winning local and long distance mover based in Massachusetts with offices across the country, is proud to announce today that they will be the Official Moving & Storage Partner of the Boston Marathon for the 18th consecutive year.
While the actual race is on April 21, the Marathon's organizer, the Boston Athletic Association, requires a knowledgeable and experienced logistics team like Gentle Giant to provide year-round storage, labor, and transportation to ensure a successful race. Throughout the year, the Gentle Giant team has stored, organized, and as of last weekend, begun distributing supplies, food, beverages, signage, and athletic equipment in preparation for approximately 30,000 participants and volunteers at this year's road race, which will be an emotional day for the entire country. This year's 118th Boston Marathon will be one of the most emotional and inspirational events in the city's history as the entire country will band together to honor the fallen, support the survivors, and celebrate their resilience and strength as a community.
For each Boston Marathon, Gentle Giant Moving Company works closely with the BAA, providing over 350 man-hours starting weeks before the actual event, through to the close of race day, and days after. In addition to providing moving labor, several Gentle Giant employees will run the actual Marathon. A Gentle Giant truck and a team of Giants will also be at the finish line on Boylston St. to help distribute water and bananas to the runners as they cross.
"Gentle Giant could not be more proud to reclaim our regular spot at the finish line on race day so we can be the first to congratulate the runners after their amazing 26.2 mile triumph," explained Gentle Giant Moving Company Founder and CEO Larry O'Toole. "We look forward to spending this truly special day with our friends, colleagues, community, and the whole country."
The scope of Gentle Giant's work with the Marathon includes:

Loading more than 25 Gentle Giant trucks and delivering over 250,000 lbs. of Marathon goods and equipment, including thousands of pounds of food, supplies, equipment, and water to the Boylston St. finish line
Set-up alongside Marathon volunteers beginning at 5:00 am on race day and ending with post-race consolidation and removals
Transportation of elite race wheelchairs to the starting line in Hopkinton
Gentle Giant is also prepared for the additional security that this year's Marathon will have in place. Gentle Giant has been in constant contact with the BAA and Boston Police to comply with new rigorous safety measures for the race. Gentle Giant crews are among the most trusted in the industry, as full background checks are a part of the hiring process at the moving company.
About Gentle Giant Moving Company, Inc.
Founded in 1980, Boston-based moving company Gentle Giant is an award winning residential and commercial mover, offering local moving, long distance moving, and international moving services. Named 2009 Independent Mover of the Year by the American Moving and Storage Association, one of the Boston Business Journal's Best Places to Work in Massachusetts in 2004, 2005, and 2006, winner of the 2006 International Torch Award for Marketplace Ethics by the Better Business Bureau, winner of the Better Business Bureau's Torch Award for Excellence in 2002, 2003, 2005 and 2008, nine-time winner of Boston Magazine's "Best of Boston," six-time winner of The Improper Bostonian's "Boston's Best Moving Company" award, thirteen-time winner of the Angie's List "Super Service" Award, 2007 Top Small Workplaces award from the Wall Street Journal and Winning Workplaces, and named a Healthiest Employer in 2013 by the Boston Business Journal, the company's services include craning, piano moving, complete packing and unpacking services, and other related services. Gentle Giant offers storage facilities and dispatches crews from more than 19 offices in California, Chicago, Massachusetts, New Hampshire, New York, North Carolina, Rhode Island, Virginia, Washington, DC and Washington State. For more information, please call (617) 661-3333 or visit http://www.gentlegiant.com.