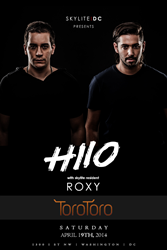 'Music expresses that which cannot be said and on which it is impossible to be silent.' - Victor Hugo
Washington, D.C. (PRWEB) April 15, 2014
HIIO are the new elements of house. An exhilarating collaborative partnership of South America's two most exciting and talented DJ/producers – Colombia's Ortzy and Argentina's Nico Hamuy. As artists who have had performances on the scale of Mysteryland Chile and Tomorrowland 2013, HIIO have a true festival aura in every live set.
Studio based full-time in Buenos Aires, HIIO are letting loose with their emotive progressive house rockets. Their brilliant inaugural release took-off in mid-2012 with a tantalizing remix of Chuckie's "Who Is Ready to Jump". "Lose Control" also another hit with the support of Roger Sanchez, amongst other major players in the international scene. All in all, the new South American powerhouse HIIO, are grabbing the attention of the international dance community at the speed of sound.
Last but not least, local favorite, and Skylite DC resident DJ, Roxy will be setting the tone for the evening and maintaining the peak energy into the later hours as she will be performing both opening and closing sets for HIIO's Washington, D.C. debut. We want this night to exude a sense of energy, dynamic movement, positive vibes, and a unique sensation accentuated by the syncopated rhythms of house music.
Tickets for, HIIO Live! At Toro Toro with Roxy can be purchased here.
Skylite DC is the host for the evening and an entity of Richard Sandoval that oversees all late night logistics, operations, events, promotions, and productions on a weekly basis. Toro Toro is the latest addition to the repertoire of venues with its own unique brand of events.
For more information, please contact;
daniel(at)skylitedc(dot)com
804.402.5886.
http://www.facebook.com/skylitedc
http://www.skylitedc.com