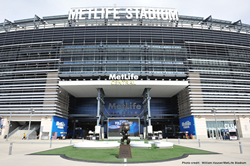 MONTREAL, April 15, 2014 (PRWEB) April 15, 2014
Genetec™, a leading provider of unified IP security solutions, announced today that MetLife Stadium (East Rutherford, NJ)—home of the New York Giants and the New York Jets—has installed the Genetec Security Center system in its 82,500-seat stadium.
MetLife Stadium is one of the largest outdoor sports and entertainment venues in the US, and requires a comprehensive and intricate security network. Ensuring a safe and secure fan experience is of paramount importance for the stadium, not only for its pro football events, but also for the many international events, concerts and activities each year.
To assist in designing the new system to optimize security operations, MetLife Stadium chose Corporate Security Services, one of the premier security integrators in the New York/New Jersey region. Corporate Security Services recommended Genetec Security Center because it has been successfully installed in other major sports and entertainment venues around the world, and has the power and capabilities to monitor all areas of the facility for improved crowd control and video archiving to facilitate after-the-fact investigations.
Because of MetLife Stadium's interest in undisrupted video coverage throughout every part of its venue, the integrator installed hundreds of cameras, many of which were high-resolution Arecont Vision megapixel and panoramic cameras, along with specially placed pan-tilt-zoom (PTZ) cameras, all connected to Genetec Plan Manager, an interactive mapping module in Security Center that gives an overhead-map view to accurately visualize any part of a facility at the click of a button.
The Federation feature in Security Center allows the MetLife Stadium security team to immediately route live surveillance feeds to local and federal authorities for instant viewing and access in case of emergency.
The video archive feature in Genetec Security Center system captures and stores video feeds for multiple years. Archived video can be accessed and retrieved down to the precise time code and date within minutes in case of an investigation.
About Genetec Security Center
Genetec Security Center is a unified security platform that seamlessly blends Omnicast video managed surveillance (VMS), Synergis access control and AutoVu license plate recognition (LPR) systems, presenting information to end users through a single intuitive interface designed to standardize workflows for greater efficiency, faster response time and an over-all higher level of security. In addition to merging video surveillance, access control and LPR, Security Center supports a large number of third party systems, including intrusion panels, asset and building management systems such as Powered over Ethernet (PoE) and WiFi wireless door lock hardware, and video analytics. With the advanced level of unification possible in Security Center, end users are able to consolidate information from multiple sites and various sources into a centralized management location, greatly enhancing day-to-day monitoring and reporting activities.
About Genetec
Genetec develops open-platform software, hardware and cloud-based services for the physical security and public safety industry. Its flagship product, Security Center, unifies IP-based video surveillance, access control and license plate recognition (LPR) into one platform. A global innovator since 1997, Genetec is headquartered in Montreal, Canada, and serves enterprise and government organizations via an integrated network of resellers, integrators and consultants in over 80 countries. Genetec was founded on the principle of innovation and remains at the forefront of emerging technologies that unify physical security systems. For more information about Genetec, visit: http://www.genetec.com.