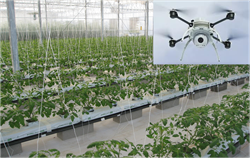 If we can grow lettuce in space, surely we can grow more efficiently here on earth.
San Francisco, CA (PRWEB) April 16, 2014
Today, local food provider Got Produce?® revealed that their newest innovation, a distributed wireless control system, is taking flight with drone technology. The announcement was made during to a premier gathering of attendees at the University of Arizona Greenhouse Engineering Short Course during robotics week. Many companies from around the world came to showcase technology while also hearing about the latest hydroponic research.
Got Produce?® founder Deborah Walliser has a background in Space Biology and has worked on designing hydroponic systems for the International Space Station. "If we can grow lettuce in space, surely we can grow more efficiently here on earth," explains Ms. Walliser. "Hydroponics can help us do that."
Now that we are wireless, there is no reason to be stationary. Drone technologies allow targeted real-time information for immediate control response. Drone technology allows us to take temperatures at certain places on the plants and make adjustments in irrigation and environmental controls in real time. This will enhance production capabilities without using more resources such as water or power.
Got Produce?® plans to make the new technology available to areas where traditional farming methods are not an option for everyone. Climate, water, terrain and financial resources can be roadblocks to market entry. Got Produce?® solves this problem through its patented hydroponic greenhouse, which has a zero carbon footprint. "We do more with less – less land required, less water is needed while producing four times the output. These are the overwhelming facts that make our business case so easy," added Walliser. These turn-key greenhouses empower the local communities (including women-owned clusters) to take control economically and have crops ready for market within months – something they never thought possible.
About Got Produce?®:
Got Produce?® is a California-based company providing patented hydroponic greenhouse solutions to developing countries and communities worldwide. The disruptive agriculture solution boasts production levels far above traditional farming (when compared using the same square footage) while using only a fraction of the water. Got Produce?® was incorporated in 2011 and is run by hydroponic expert Deborah Walliser. For more information, please contact info(at)GotProduce(dot)us or visit http://www.gotproduce.us.