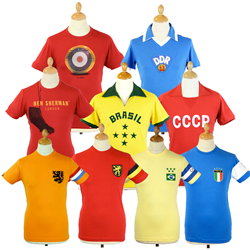 Football Fever, but it's not just a World Cup occasion. At Atom Retro, vintage football t-shirts are an all year round thing.
Scarborough, North Yorkshire (PRWEB UK) 16 April 2014
Football fever: it's not just a World Cup occasion. At Atom Retro, vintage football t-shirts are an all year round thing.
With the World Cup looming, online retro clothing retailer Atom Retro have increased their offering of classic, vintage looking football t-shirts. However, it's not a get in and get out quick attitude; this football theme is here to stay.
Lindsey Hagston, buyer at Atom Retro, says, "We introduced COPA football t-shirts to our range last year, a range of retro and off beat styles from now defunct countries to kits that represent a great back story. The CCCP kits went down really well, and with Cuba and the DDR adding to a slightly obscure international portfolio, the response was emphatic. From a club team point of view, the George Best inspired LA Aztecs t-shirt went down a storm too."
As a result of this success, Atom Retro have unveiled new vintage 'Captain' t-shirt styles from COPA that focus on some of the teams that will take part in this summer's World Cup. Lindsey says, "We introduced the Argentina Capitano football t-shirt last year and it's worked really well. It's got that vintage Maradona vibe and these new introductions all reflect a similar retro ethos. They are well priced too. We've got France, Belgium, Netherlands, Belgium, Germany, Italy and Brazil, all in COPA's retro 'captain' style."
Atom Retro have also embraced the Ben Sherman football injection range. Whilst it's primed for a World Cup audience, it's by no mean pigeon-holed to that. As you'd expect with Ben Sherman, there's a nod and a wink towards mod culture with the classic mod target making an appearance.
"We've got vintage football boots and a retro table football theme fused with 1960s style Breton stripes. It's doesn't revolve around the World Cup. It's a good fit, but it's an all year round casual fashion statement - mod culture and sports/football heritage."
For that tongue in cheek soccer inspired t-shirt, the latest range from Chunk offers up some 'old skool' fun. Merging a soccer theme with Star Wars nostalgia is an abstract and unique take on the beautiful game. The 'Allstars '77' t-shirt, available in dark navy and grey, sees the Rebel Alliance taking on the Empire in vintage soccer sticker format.
"This style has gone bananas; we've already placed a re-order to cope with demand," Lindsey says.
As Liverpool legend Bill Shankly once said: "Some people think football is a matter of life and death; I assure you, it's much more serious than that."
About Atom Retro:
Atom Retro is a UK leading clothing retailer, boasting the largest range of authentic, high quality retro and mod clothing for men and women online. The Atom Retro range is inspired by the Carnaby Street boutiques of the sixties and includes an ever growing list of iconic brands and original, independent designers. Browse Atom Retro's extensive range of retro and mod clothing at http://www.atomretro.com.