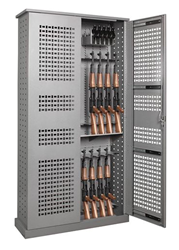 Kalamazoo, MI (PRWEB) April 15, 2014
Borroughs Corporation, along with TSI Weapons Storage, is excited to be attending the Darley Days at Ft. Bragg, North Carolina from April 16-17. This show is the first of five shows that Darley Defense puts on across the nation with the latest in tactical gear and supplies from their premier lineup of vendors. Borroughs and TSI will be showcasing their weapons storage cabinets and a line of components and accessories to accommodate a wide range of guns, tasers, optics and more.
About Borroughs Corporation
Established in 1938, Borroughs has been building top-quality shelving systems for seventy-five years. Our focus on producing "A" grade shelving products has given us the expertise to provide systems ranging from a small back room storage requirement to high-rise and multi-level systems found in today's distribution and fulfillment centers. Borroughs' experience is a major benefit which adds significant value. When dealing with huge projects, diverse requirements and critical situations, there is no substitute for experience.